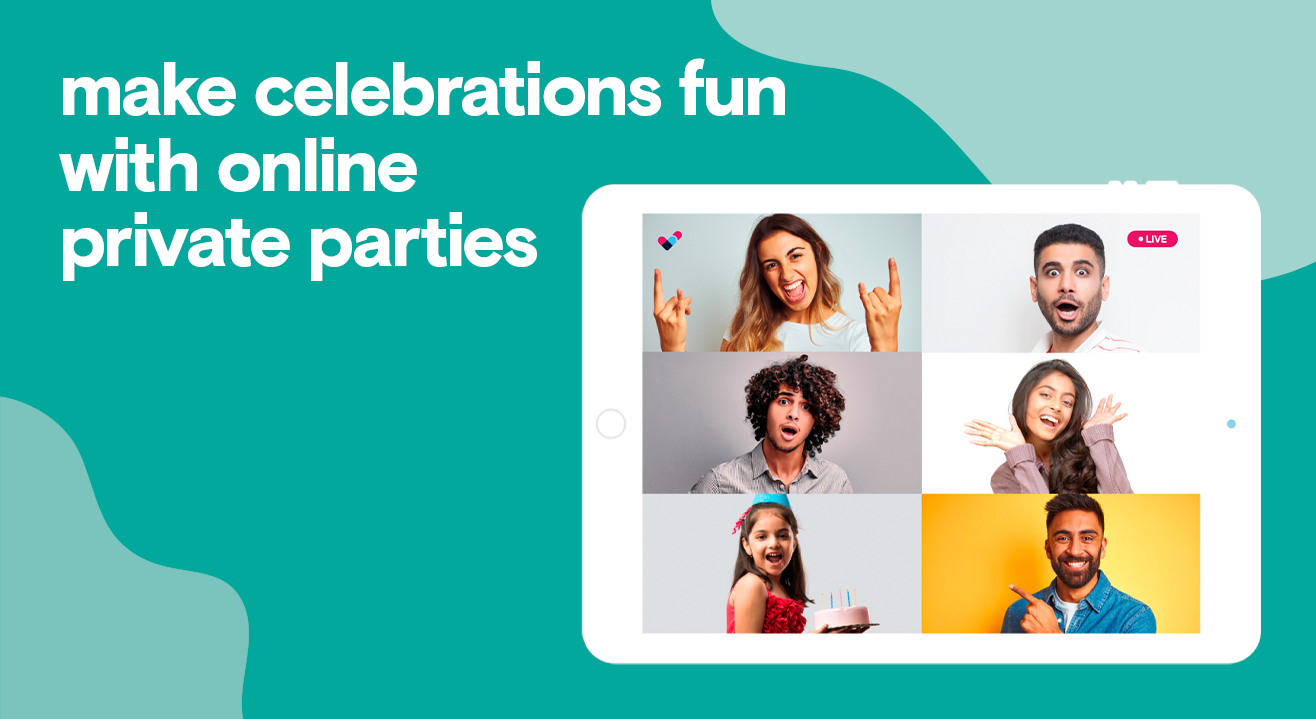 9 Creative Virtual Birthday Party Ideas
Don't miss out on your special day. Yes, you can still celebrate because we've got a few interesting ways. Keep on reading to find out some really cool ways to plan your virtual birthday party.
Invite your friends
and enjoy a shared experience
Online Birthday Party Ideas -
1. Magic Show
Plan a live online magic show for your kid's birthday celebration. The magician, the friends, the family, you - everyone joins in online, from the comfort of their homes. Enjoy an entertaining evening as the magician performs some mesmerizing tricks that blow your mind. Need help pulling it off? We've got live magic show experiences ready for kids under 6 and between 6-10 years of age.
If it's a birthday party, it's gotta have magic
2. Puppet Show
Kids love puppet shows and if you ask us, it's a great way to keep the entertainment going. Just have your friends and family tune-in online for the party, and next thing you know you're live with some puppetry. Add a couple of interesting characters to the tale and you're good to go. If you know a kid who's birthday is on the way - we'll help you plan a puppet show. Click here if the kid is under 6 years and click here for ages 6-10.
Put a smile on those faces with some puppetry
3. Shoutouts
Add 5 stars to that birthday bash! Gift a personalized wish from a celebrity with Shoutouts. Select from India's most famous personalities including popular names from comedy, music, and creative circuits. It'll be like a dream come true for your friend, and you can get one for yourself also, like we did.
Get a special message from a special someone.

4. Storytelling Session
Once upon a time, we had an epic birthday party and we still talk about stories from it. If your kid also loves stories, a live online storytelling session is just perfect. After all, the kids love asking 'then what happened?' and our storytellers know just about how to keep them engrossed in some really interesting tales. If you're looking for storytellers, head here for ages below 6 and here for ages 6-10.
Storytelling sessions that the little ones just love

5. DJ Party
What's a birthday party until the DJ doesn't play your request? Pump up the volume with a DJ session. Get those party hats, ask your friends to bring-in those moves and let's get dancing. Only the trendiest songs, which our DJs already have ready in their mix. So fix a date and book a Jam with DJ online session today. Heads up! If you invite us, we're known to do the hokey pokey for sure.
Get movin' & groovin' as you jam with the DJ

6. Art & Craft Hours
Drawing, painting, coloring - plan some quality time for the children. Celebrate the birthday with a colorful online art & craft session. Pot painting, origami, folding chip-chops, drawing scenery, making objects out of playdough, or creating a pencil stand. These are just some activities that you can plan for the online party, and in case you need help getting started, head here.
Go cray cray with crayons and add some color to the party
7. DIY activities
Plan a colorful & fun session for your child's birthday celebration. We're already thinking about activities like finger painting, thumbprint family tree, colorful bookmarks, origami frogs, or a magic wand. We just love magic wands. Art, craft, and everything DIY online. We already have some lined up for kids below 6 years and between 6-10 years. Take a look.
Creative minds call for some creative DIY activities
8. Send a cake
There's nothing quite like going the traditional way of sending a cake, following which you can join them via a video call as you sing Happy Birthday and make some sweet memories. So go ahead, surprise them with a cake or two and save them the effort of having to bake. Oh, btw if you're up for it you can actually bake one and send it too. Learn how.
Savour some sweet sweet memories

9. Game Night
Participate in a game night or host one exclusively for your friends and family. Paytm Insider's Private Parties got you covered. Tell us what you're looking for and we'll make a custom package for you.
Game nights like the good ol' days
Head here to experience a completely new era of party planning 👇
Arts, crafts, DIY activities, DJ music, storytelling, or puppetry - whichever you pick, make sure your virtual birthday party is a memorable one. And the key to having one, depends a lot of whether the kids have fun. Happy Birthday to your kid in advance from all of us at Paytm Insider.
Subscribe to receive our newsletter!
Find the best experiences happening out there in your city or enjoy handpicked content while sitting comfortably at home. Paytm Insider is your go-to place to figure out what to do today!