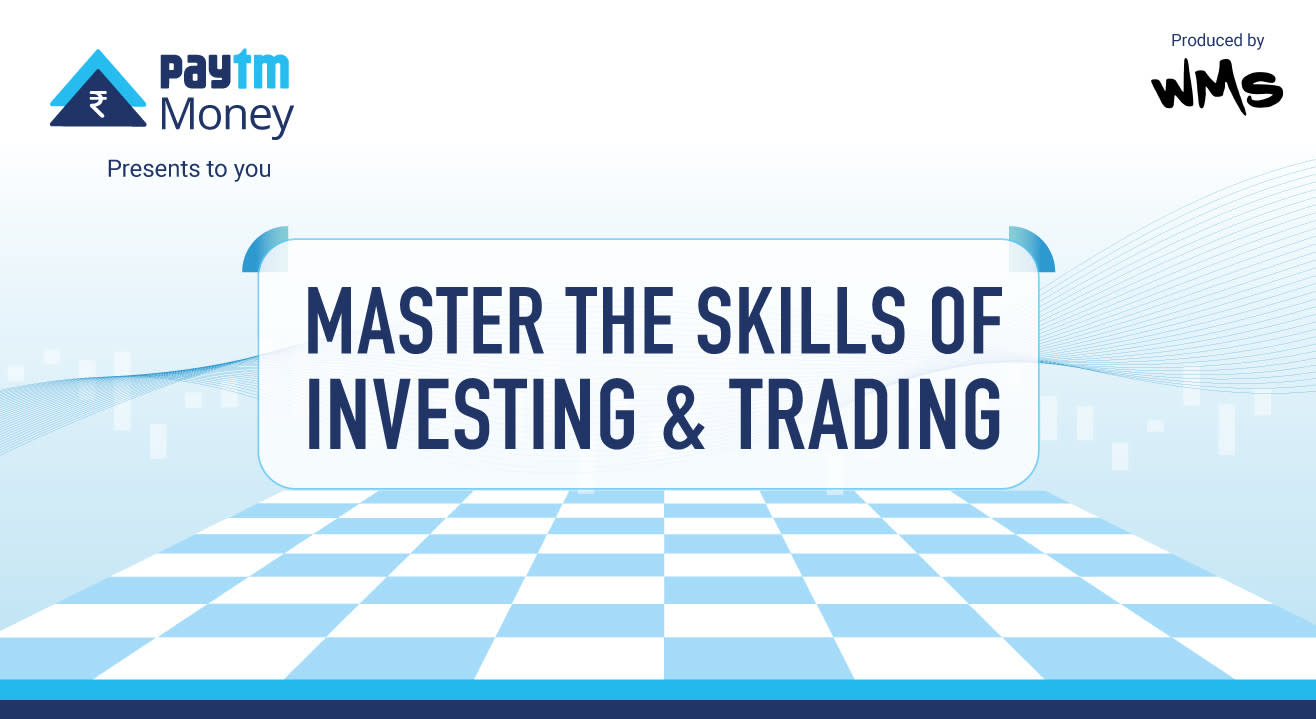 Invest, trade, and learn how to get more out of your money with Paytm Money
Check out Paytm Money's online workshop series and find your way through investing and trading.
Invite your friends
and enjoy a shared experience
How to choose stocks for your portfolio? How much to split between debt and equity? What patterns to look out for? What are ETFs? Hold up. You can get all your doubts cleared with Paytm Money's series of online masterclasses. Think of this as a comprehensive explainer for budding traders and investors.
Foundation Masterclass – Jumpstart your investment journey
Jumpstart your investing journey, with a 360° view of the various options available in investing. Learn to grasp the first steps into the world of investing and trading in the markets!
Tickets are FREE
360 degree view of all investing options
Understand Equity and Fixed income investing
Explore alternative options such as REITs
Learn simple but effective trading strategies
ETF Masterclass – Future of Investing
Learn about indices and how they work, how ETFs track indices, what are the different types of ETFs and most importantly how to select the right ETF for you.
Tickets are FREE
Understand all about indices
Learn how to select the right ETF
Explore emerging themes like ESG
The place of passive in your portfolio
ETF Masterclass – Rise with India
Learn all about ETFs as an investment and trading product in the Indian context. Find out how to select the best ETF!
Tickets at ₹99/-
Bet on the India growth story through ETFs
Understand what is an ETF
Cover different kinds of ETFs
Using ETFs for trading
Asset Allocation Masterclass
The basics of assets, risk-return profile, asset allocation strategies, implementing an asset allocation plan - learn all this and lots more from industry experts in this online masterclass.
Tickets at ₹99/-
Understand the various asset classes and their risk-return profiles
Learn about Mutual Funds & ETFs and how they score over other options
Get to know different asset allocation strategies
Find out the best way to implement your asset allocation plan
Options Masterclass – Ace your trade
Learn all about options – the market, the players, different option types, and most importantly how to analyze and place an options trade.
Tickets at ₹999/-
Build a solid foundation on options basics
Understand option chain and its uses
Learn about margin calculation
Explore 5 effective option trading strategies
Subscribe to receive our newsletter!
Find the best experiences happening out there in your city or enjoy handpicked content while sitting comfortably at home. Paytm Insider is your go-to place to figure out what to do today!