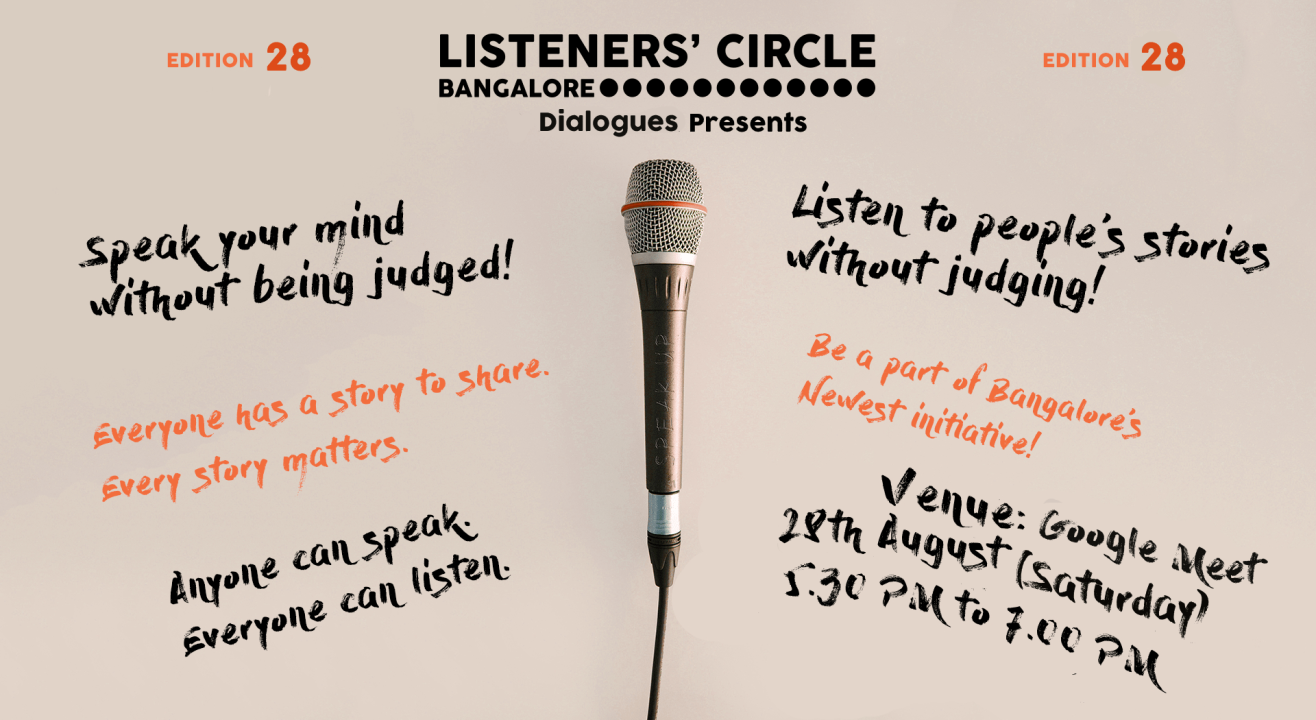 Listeners' Circle - Edition 28
Enjoy this event from your home
Event Guide
For Age(s)
Family Friendly
Interactive show
Be a part of the show
Invite your friends
and enjoy a shared experience
Event Guide
For Age(s)
Family Friendly
Interactive show
Be a part of the show
Invite your friends
and enjoy a shared experience
About the Event
About the session :
Listeners' Circle in association with Dialogues now also at Google Meet!!
Speak your heart out without fear of judgment and listen without judging!
Every story matters. Every life matters. Every feeling matters. But do we share our stories, struggles, and experiences with others openly? What stops us? Isn't it the fear of judgment? And how often we listen to others patiently without judging them?
Think about how it would feel to take an hour out of your fast-paced life and tell your story to people who listen to you without judging? Also, listen to the stories of others without judging.
The previous editions had some really exciting stories to listen to:
1. An Entrepreneur from IIT Madras shared his life-changing near-death experience and how it transformed his complete life.​
2. A Management Profession shared how has been just 'Ordinary' all along with his life and how that has helped him and his circles. He articulated that being 'Ordinary' is the new different.​
3. A founder of a theatre group shared how she bravely stood up to the sexual harassment of a fellow passenger in a bus moving through the middle of the forest in the midnight. ​
4. A thirty-something professional shared how she is on a journey of rediscovering love after five years of separation and being single. ​
5. Someone shared how an experience in a cab on his first journey in Japan, made him understand about Japan and honesty.​
Everyone has such stories to share. Do you have something to share? ​
Be a part of the Listener's circle - Edition 28
Speak your mind without being judged. Speak your mind without any boundaries. No photography and videography without consent. Your stories stay within the four walls of the room and the hearts.​
​Would you like to just listen? We have a place for you too.​
About Dialogues:
Dialogues is a social space, both online and offline, that inspires creativity and a sense of belongingness. We, at Dialogues, are a community of passionate individuals who strive to nurture this social space for each and every person to enable them to pursue what they love - art, books, music, poetry, cinema, and much more.
Watch out for more exciting events and workshops!
IMPORTANT:
- This is a LIVE session, not a pre-recorded tutorial
- For the best experience, join the workshop from your laptop/desktop
- Login 15 minutes prior to the workshop. This will help us work out any technical difficulties so we can start the session on time.
- Ensure that your internet connection is stable. If you are unable to join the session due to technical reasons, please call us at (+91-6363556436)
- This is a closed event. Only registered email ids will be allowed to join the session
- The event will be recorded for documentation purposes. However, no personal details or any other information will be used without your explicit consent
Please note that you will receive the invoice and the link of the session on your registered email ID. If you fail to receive the email, you can reach out to us at team@dialogues.space or call us on +91-6363556436 and we will send the invite to you again.
Terms & Conditions
The internet Gods are not always in our favour so please allow for minor network issues and interruptions during the event
There is a possibility that the time and date of the event may be rescheduled due to internet connectivity issues. In this case, the artist will share the revised date and/or time at the earliest.
One ticket grants access to the live stream for only one screen at a time
The ticket is non-refundable and cannot be exchanged, cancelled or returned once bought. No refunds on purchased ticket are possible even in case of any rescheduling
Recording or uploading of this stream is strictly prohibited
Dialogues cannot be held accountable If your network connection is not optimal. However, if the problem is faced by a majority of the participants, the event may be rescheduled
For any queries, contact us at: team@dialogues.space / +91-6363556436