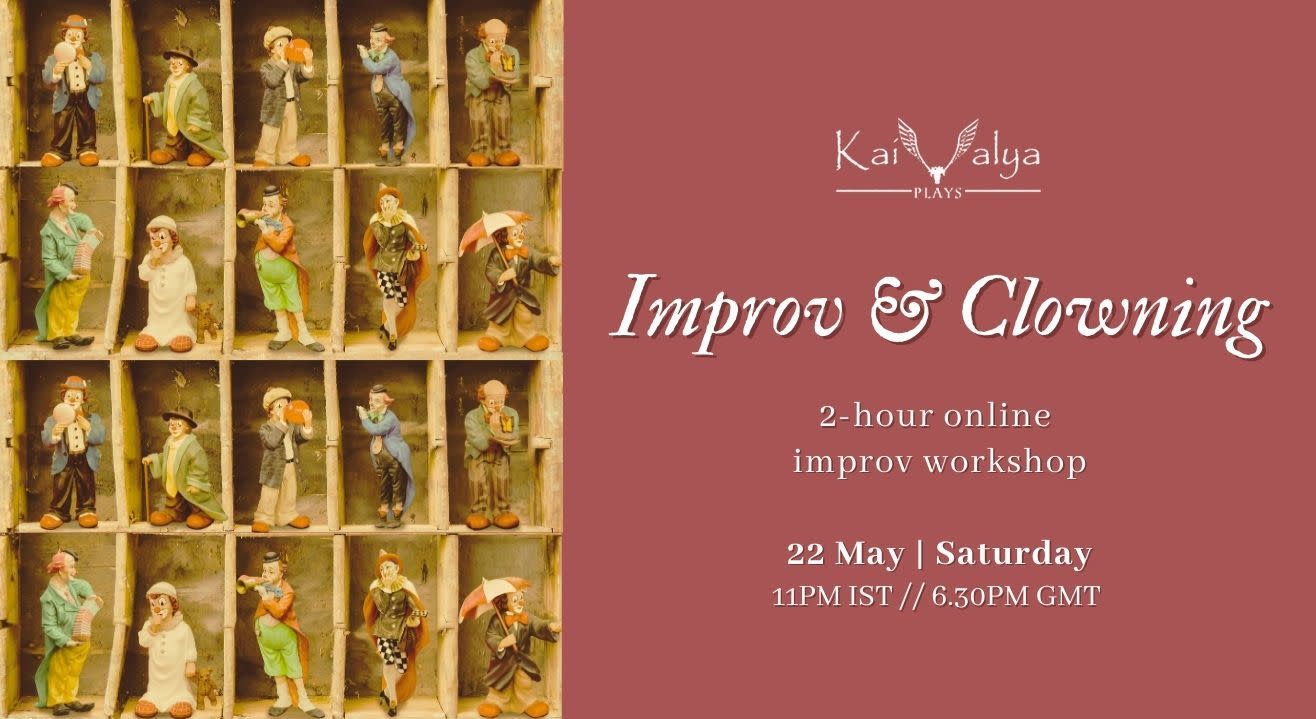 Improv & Clowning - Online Improv Theatre Workshop
May 22 | 11PM - May 23 | 1AM
Enjoy this event from your home
Event Guide
For Age(s)
Family Friendly
Masterclass
Learn from an expert
Invite your friends
and enjoy a shared experience
Event Guide
For Age(s)
Family Friendly
Masterclass
Learn from an expert
Invite your friends
and enjoy a shared experience
About the Event
About this Event
Kaivalya Plays presents
Improv & Clowning
IMPROV LEVEL: No previous knowledge of improv necessary
As improvisers we are guided to put all our focus on our co-actors. We, often, ignore tha audience and play out our scene in an imaginary world disconnected from their involvement. Clowns, however, constantly engage and share with their audiences. Clowns communicate with their entire bodies and tell stories that revel in failure.
Improv & Clown draws upon *Commedia Dell'arte* and the work of clowning masters including Jacques Lecoq and Charlie Chaplin to show a fresh direction for improv work. There are many intersections in improv and clowning, especially regarding how we react to failure, endowing space, exploring emotion and using comedy as a primary genre to tell spontaneous stories. Clowning has many schools and approaches, but where it often deceives us is in its simplicity. Clowns can make a child laugh, but that doesn't mean the clown is merely playing to a fool, but rather using the very highest level of their intelligence to perceive, react and create. Clowns are masters of creating novel situations and then heightening them by dwelling on what can go wrong, and how what goes wrong reveals their own foibles and inabilities, all while entertaining the viewer. To be a clown is to gain a deep understanding of yourself and to share it with the world in a comfortable and self-empowering manner.
Clowning is a lifelong practice but, in this 2 hour session, the facilitator will introduce you to a little history, share games and exercises and guide you to get out of your head and into the room so you can perform at a higher level than you might have done before.
After this course you will be able to:
Bring the audience into your scenework
Raise the stakes of a situation by making it implode on itself
Use the resistance you encounter from objects or others as fuel for a scene
Feel comfortable, safe and full of ideas as a character in a scene
Duration: 2 hours
Requirements:
The class is open to anyone. The facilitator will ask you to stand and move for several exercises but these exercises will be adapted for anyone with different needs. Dress comfortably and keep a bottle of water within reach.
Facilitator:
Varoon P. Anand is Delhi's most experienced Improv trainer and performer. Beginning his career under the guidance of Danielle Miles, of Fortetheatre UK, he co-founded Improv8 at Panama's renowned Theatre Guild of Ancón in 2008. Varoon trained in clowning under Ashwath Bhatt of the National School of Drama from 2012-13. In Delhi, Varoon began teaching Improv in 2012 through Kaivalya Plays, the theatre company he founded, and in 2014 formed CueLess Improv, the capital's most prolific team of short-form improv performers. Varoon trained in Laban Movement with Gilles Chuyen in 2013. Varoon continued training in improv with teachers including Saif Ali, of Batlahouse theatre, learning and collaborating from 2015-16. In 2018, in collaboration with the Goethe Institut / Max Mueller Bhavan and medical practitioners, Varoon created Unravel, an improv show about mental health. Along with being the Artistic Director of Kaivalya Plays, CueLess Improv, and El Clavileño (India's only Spanish language theatre group). As of 2020, Varoon has trained more than 200 performers in spontaneous improvisation, facilitated workshops for over 500 people in improvisation for mental wellness and collaborated with institutions like Embassy of Spain, Embassy of Argentina, Embassy of Ecuador, Indian Habitat Centre, Little Theatre Group (LTG), Oddbird Theatre & Foundation amongst others. He continues to explore new ways to present and teach the techniques of improv, along with his other specialties.