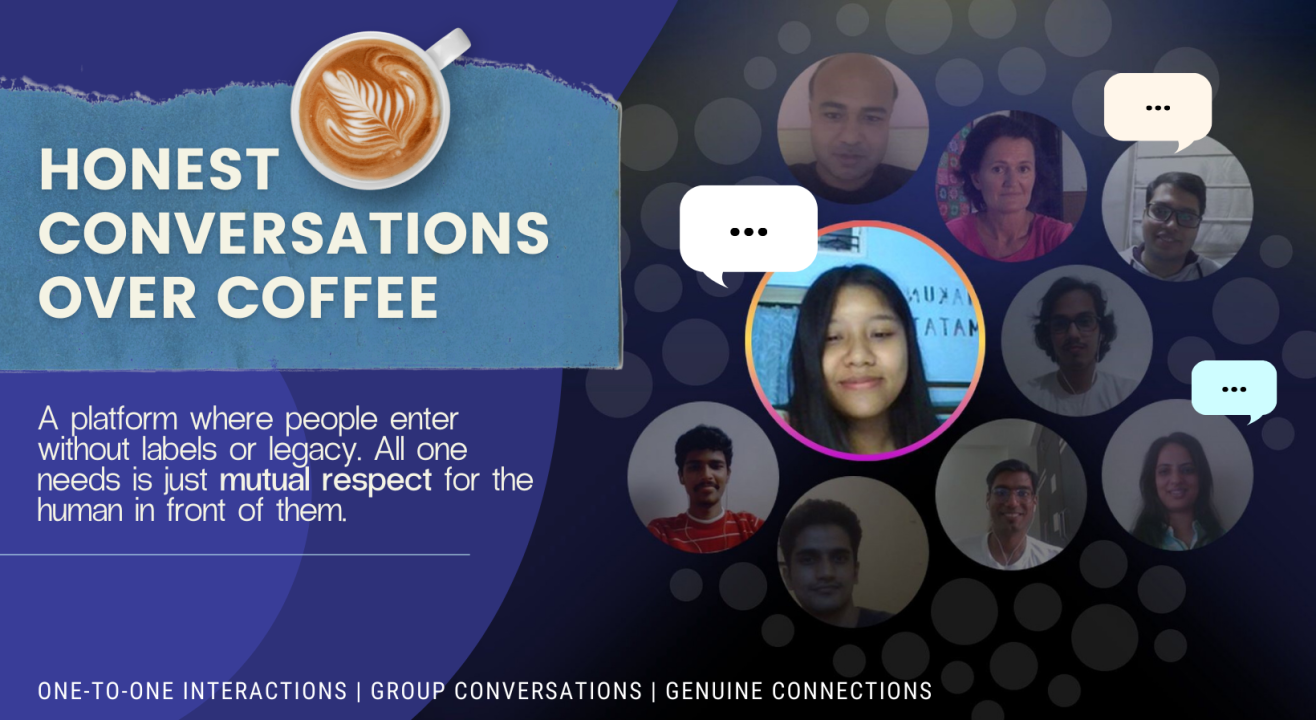 Honest Conversations Over Coffee
December 4 | 11:30AM - December 18 | 1:00PM
Enjoy this event from your home
Event Guide
Interactive show
Be a part of the show
Invite your friends
and enjoy a shared experience
Honest Conversations Over Coffee
December 4 | 11:30AM - December 18 | 1:00PM
Enjoy this event from your home
Event Guide
Interactive show
Be a part of the show
Invite your friends
and enjoy a shared experience
Event Guide
Interactive show
Be a part of the show
Invite your friends
and enjoy a shared experience
Honest Conversations over Coffee is a platform whose entire idea is to help connect people via real, meaningful conversations. We want to drop the small talk of everyday life & voyeurism plus the perfection of social media.
It's a place where you can meet another human being and have an honest conversation with them- share what is on your mind & listen...genuinely listen to what they have to say. We need a place where we go beyond likes, comments, and shares.
Our Format
We don't talk about our jobs
For most of us, the second or third question is - "So what do you do?" We need to have an identity beyond our designations, money, or our family. It would be interesting if we avoided these questions - and talked about our interests and who we are.
No small-talk
A 'No Bullshit policy' where we don't do small talk. Where you have conversations without pretense or political correctness and where, when you don't want to talk about something, you just say "I don't want to" instead of employing some random BS to avoid.
Respect
Please be respectful towards other attendees, even if you strongly disagree with them. Also, be conscious of the details you share with others. We do not share your data with any 3rd party and any communication will only be regarding any such events or similar platforms.
Deep philosophical stuff- to pretty much all that matters.
Not deep philosophical stuff only, but all that matters - from first love to dreams to inane but brilliant movies to weird experiences - let's hear them!
No distractions, especially digital ones.
While this is a virtual meetup, and we are all for freedom of choice, but we should be able to have 'real conversations' without constantly scrolling through our Facebook or other digital distractions.
The event link will be shared approximately one day before the event.