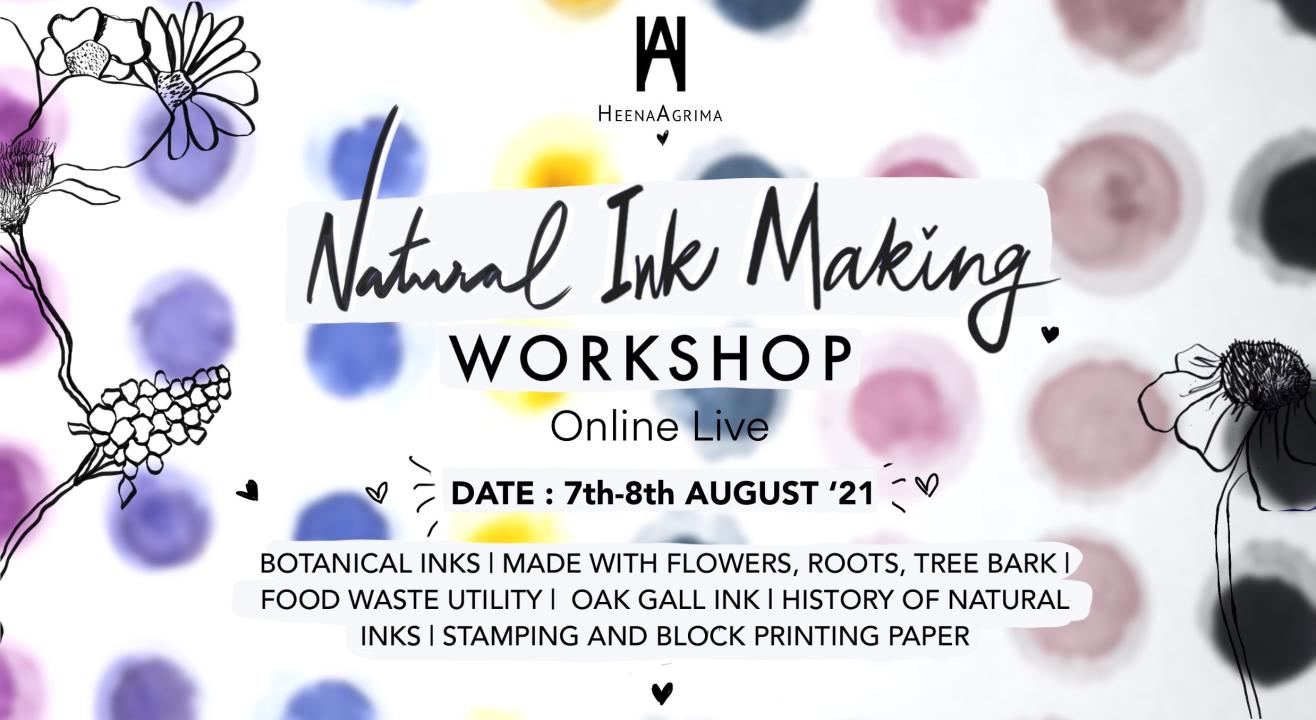 HeenaAgrima's Natural Ink Making Workshop
August 7 | 2PM - August 8 | 4PM
Enjoy this event from your home
Event Guide
Masterclass
Learn from an expert
Invite your friends
and enjoy a shared experience
Event Guide
Masterclass
Learn from an expert
Invite your friends
and enjoy a shared experience
About the Event
About the Workshop
Learn about the process of making Botanical inks including classics like iron gall ink as well as inks made from natural dyes like sappanwood and marigold.
The workshop will explore papers, and the basis of inking or writing with different pen points and stamping. We will generalize the procedure of ink making so that it may be applied to any organic or mineral matter. The workshop will also present a discussion of journaling, writing, books, and creativity.
* 4 hour live session held over a period of 2 days and free future consultation opportunity after the session is complete.
* Work with a range of materials including Oak Gall, Sappanwood, Limestone, Marigold, Gum Arabic and Shellac.
* Learn about ink making as a way to explore materials.
* Know more about the history of writing and ink and the future of your own creative practice.
* Forage, make, preserve and cherish the colours of nature in your art and writing.
To follow along during the session, you will need the following materials:-
- Old utensils for stirring
- A strainer or Coffee filter
- Mortar and Pestle
- A funnel
- A lab glass
- A cooking thermometer
- Litmus Paper
- Measuring Scale
- Pigment Rich Ingredients
- Extra Bottles for Ink
- Whole Cloves or any Antiseptic Oil
- Small glass vials to store inks
- A Notebook
- Heat Source
- Gum Arabic
- Alum (fitkari)
- Vinegar
- Salt
Note from the Host
This would be a two day workshop, 2 hours per day in which we will be teaching about the process of making inks with natural / plant materials. We will also talk about the history of ink making and certain traditional recipes that people used to make ink in the medieval times.
We will use multiple materials to produce various colours and also show you techniques of applying it in your creative practise, stylised writing techniques and how and where you can use this ink. Stamping and block printing paper with ink is also included.1
You can follow along to create your set of beautiful inks or make them later and reach back to us for any future consultation at any time even after the workshop has ended.
Natural Ink Making Workshop