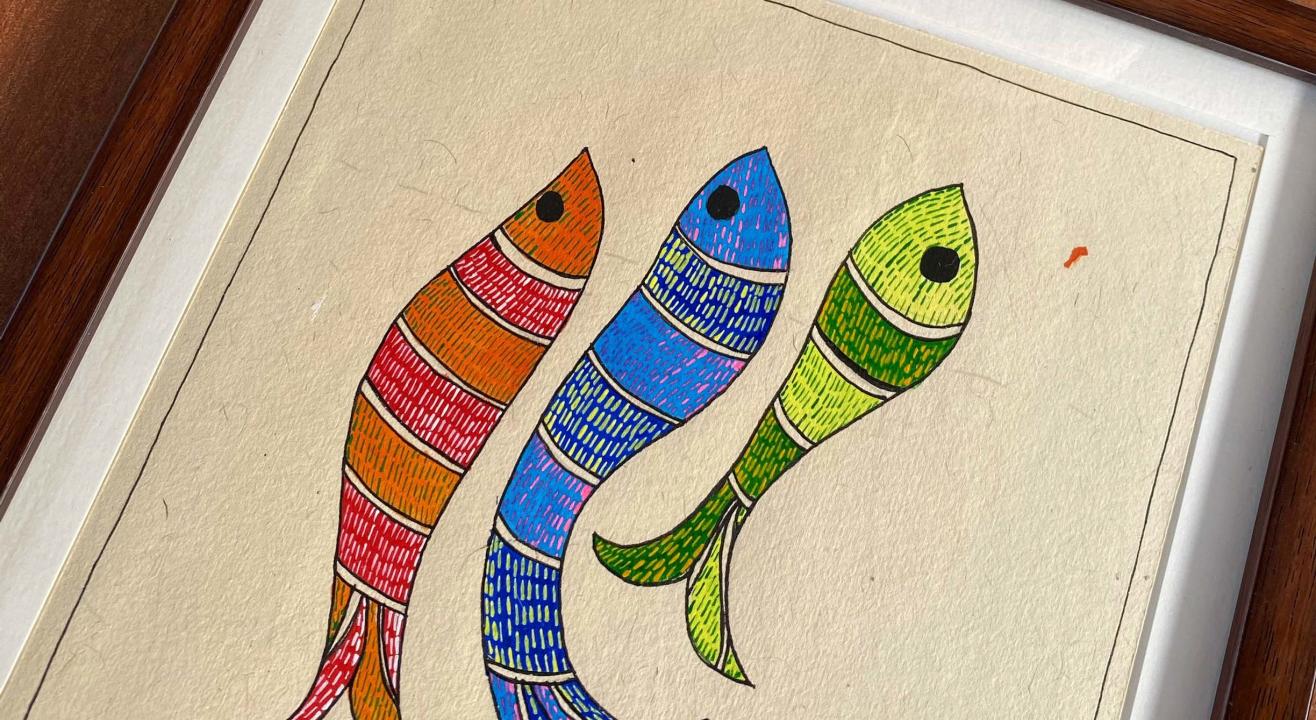 Exploring the Uniqueness of Indian Folk Art
Enjoy this event from your home
Event Guide
For Age(s)
Family Friendly
Masterclass
Learn from an expert
Invite your friends
and enjoy a shared experience
Event Guide
For Age(s)
Family Friendly
Masterclass
Learn from an expert
Invite your friends
and enjoy a shared experience
About the Event
Expertise level: Beginner-friendly
Age level: 8+ years
About the Workshop:
Art is such an amazing representation of culture, don't you think? It can reflect the traditions, beliefs, rituals, lifestyles, history and even language of the place it originates from. For example, fish is considered to be very auspicious in many cultures in India and thus, fish is also a popular motif in most folk art forms.
In this mini-workshop hosted byChitrakathii, let's dive into some popular folk art forms and find out more about them. But don't worry, this is not going to be a boring theory class. We will draw and colour the auspicious fish of three popular fork art forms:
1. In Gond Art from Madhya Pradesh
2. In Pattachitra from Bengal, and
3. In Madhubani from Bihar.
Through drawing these motifs, get the opportunity to spot the basic differences in these art forms!
Flow of the session:
A brief overview of each artform
Regions where they are practised
The themes influencing each artform
Why Fish is considered auspicious
The basic construction of the motifs in a simple manner
Colours, themes, and patterns
Colouring
Materials required:
A5 or A4 drawing paper
Poster or acrylic colours
Paintbrushes - sizes 4, 2, and 0
Black pen
Pencil
Eraser
Ruler
Date: Sunday, 8th August 2021
Time: 3 - 4:30 p.m.
Venue: Online
About the artist:Chitrakathii
Chitrakathiiis an art initiative by folk artists Manisha and Vandana. The duo has always been fascinated by folk art as they believe that each Indian art form tells a story. Each art form is not only beautiful to look at but it also conveys a whole new world - the culture, history, mythology, and the flora and fauna unique to the region the art form is born in.
ThroughChitrakathii, Manisha and Vandana wish to use art as a means to spread the stories of Indian culture and heritage across India and globally as well. They practice several types of folk art and have conducted workshops for the same, spreading their passion and love for folk art through every student they have taught.
About the Dialogues with Art Community:
Our community of art-epreneurs and art enthusiasts is for beginners and professionals alike; we have something for everyone - events & workshops, art quizzes & contests, weekly discussions, candid feedback sessions, and much more.
Click here to join our WhatsApp group:https://bit.ly/2SHbyxz
About Dialogues:
Dialogues is a social space, both online and offline, that inspires creativity and a sense of belongingness. We, at Dialogues, are a community of passionate individuals who strive to nurture this social space for each and every person to enable them to pursue what they love - art, books, music, poetry, cinema, and much more.
Watch out for more exciting events and workshops
IMPORTANT:
- This is a LIVE session, not a pre-recorded tutorial
- For the best experience, join the workshop from your laptop/desktop
- Login 15 minutes prior to the workshop. This will help us work out any technical difficulties so we can start the session on time.
- Ensure that your internet connection is stable. If you are unable to join the session due to technical reasons, please call us at (+91-6363556436)
- This is a closed event. Only registered email ids will be allowed to join the session
- The event will be recorded for documentation purposes. However, no personal details or any other information will be used without your explicit consent
Please note that you will receive the invoice and the link of the session on your registered email ID. If you fail to receive the email, you can reach out to us at team@dialogues.space or call us on +91-6363556436 and we will send the invite to you again.
Terms & Conditions
The internet Gods are not always in our favour so please allow for minor network issues and interruptions during the event
There is a possibility that the time and date of the event may be rescheduled due to internet connectivity issues. In this case, the artist will share the revised date and/or time at the earliest.
One ticket grants access to the live stream for only one screen at a time
The ticket is non-refundable and cannot be exchanged, cancelled or returned once bought. No refunds on purchased ticket are possible even in case of any rescheduling
Recording or uploading of this stream is strictly prohibited
Dialogues cannot be held accountable If your network connection is not optimal. However, if the problem is faced by a majority of the participants, the event may be rescheduled
For any queries, contact us at: team@dialogues.space / +91-6363556436