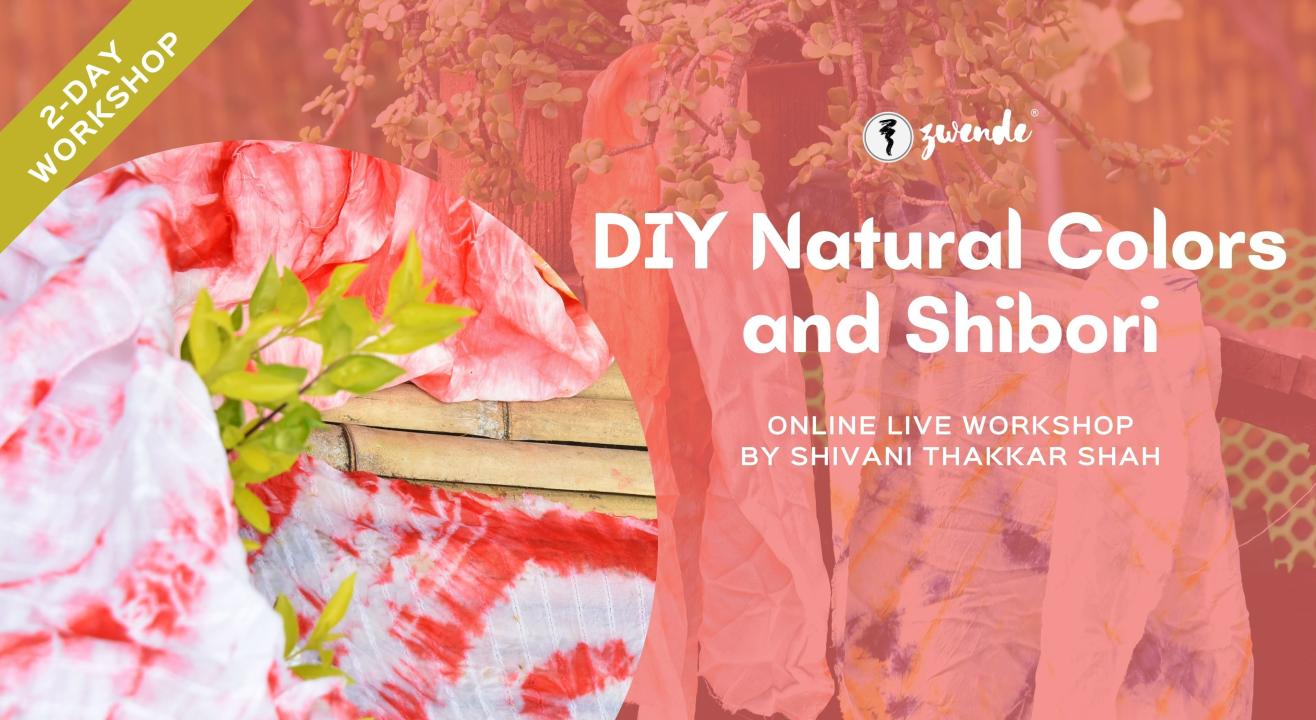 DIY Natural Colors and Shibori [Online Live Workshop - Materials Kit Available]
Enjoy this event from your home
Event Guide
Masterclass
Learn from an expert
Invite your friends
and enjoy a shared experience
Event Guide
Masterclass
Learn from an expert
Invite your friends
and enjoy a shared experience
About the Event
About the Artform
Shibori is a Japanese technique of resist dyeing on fabric. It involves various techniques which helps in creating beautiful and unique patterns on the fabric. It need not be limited to clothes, whereas stunning effects can also be achieved on household items such as pillowcases, napkins, tablecloths, and bags as well.
About the workshop
The Canvas
Overall Details
In this two days, you will learn learn how to make your own textile and learn to color your own kurta with natural dyes.
Join this workshop and learn the magical centuries-old technique of tie and dye and revamp your wardrobe using simple kitchen ingredients that are 100% safe, skin-friendly, eco-friendly, and economical
It is a beginner friendly workshop. (Age 15+)
Flow of the Workshop
Day 1
You will learn how to make the dye bath using kitchen ingredients
You will learn how to sample dye fabrics by enjoying the various colors formed
Day 2
You will learn techniques of Tie Dye/Shibori
You will learn to dye the fabric using the dye colors available in the kit




The colours in the palette
Elements you will learn
History and Relevance about Tie and Dye/Shibori
Fabrics that can be used for Tie and Dye
The basics of Shibori- Folding and binding techniques to create beautiful designs
Various tying techniques
How to make a dye bath
How to make color from food waste & kitchen ingredients
How to fix colors on fabrics and achieve long-lasting colors
How to take care of naturally dyed fabrics
By the end of the workshop, you will finish the dyeing process and you will be amazed as the stunning patterns are unfolded and revealed!


Who is this workshop "just right" for?
This workshop is best for someone who loves nature, believes in living minimally, likes upcycling, and also for someone related to the field of fashion.
It is a beginner friendly workshop. (Age 15+)
Materials Required
Day 1
Materials Required
White Cotton Fabric- 4 small pieces
Gloves (optional)
2-3 Cooking bowl (in which your cloth can move easily)
Cooking spoon
Gas connection and stove/hot plate
Water
Salt
Strainer
Glass
Vinegar (Optional)
Baking Soda (Optional)
Coffee/Tea powder
Onion skin
Turmeric
Avocados pits
Alum
Vessels
Spoon
Hot plate
Day 2
Materials Available in the Kit
Tying Materials
Dyes
Gloves
Fixer
Trial fabric
Main Product
Other Materials Required
Gas stove/induction plate
Water
2 vessels for free movement of fabric
The scope of creativity
Further prospects and application of what you will be learning
For someone in the fashion industry, it is a great opportunity to learn this art. It can be used in making everything from apparels to footwear to jewelry. Otherwise, its a great option to learn the art and upcycle the things around. Wherever there is a usage of fabric, this art is useful.