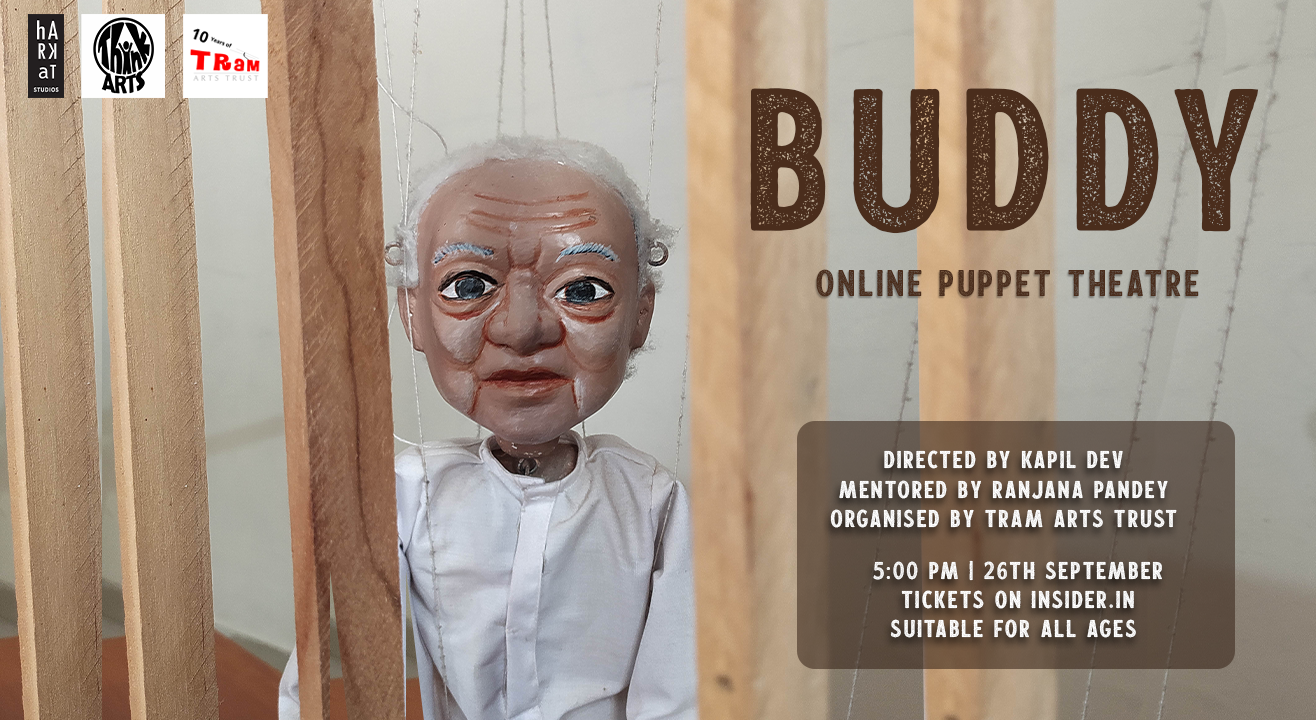 BUDDY - Online Puppet Theatre
Enjoy this event from your home
Event Guide
For Age(s)
Family Friendly
Live Performance
Enjoy a unique experience
Invite your friends
and enjoy a shared experience
BUDDY - Online Puppet Theatre
Enjoy this event from your home
Event Guide
For Age(s)
Family Friendly
Live Performance
Enjoy a unique experience
Invite your friends
and enjoy a shared experience
Event Guide
For Age(s)
Family Friendly
Live Performance
Enjoy a unique experience
Invite your friends
and enjoy a shared experience
A charming story of friendship between a lonely old man and a stray puppy dog. Told with String Puppets and Shadow Puppets.
SUITABLE FOR ALL AGES
Duration: 30 mins
Date and Time: 26th Sept | 5 pm
By buying a ticket to this show, you will support an artist and art.
SYNOPSIS
A lonely, friendless old man lives alone in a house. One day he meets a stray puppy dog in the garden where he goes for his regular morning walk. Every morning the puppy dog teases him and makes him uncomfortable. There develops a grudging friendship between them.
One day a dog-catcher catches the dog, takes him away, and puts him in a cage. As usual the old man comes to the garden but the dog is nowhere to be seen.
What ensues is the story of their separation, search for each other, and joyful reunion. This is a story that makes you smile and sigh. And shows you the wonder of puppet theatre.
CREDITS
Puppeteers: Vinay Bhaat , Kapil Dev
Music and sound editing: Badrinath Sabat
Mentorship: Ranjana Pandey
Puppet, Set design, Script, and Direction: Kapil Dev
Assisted by: Vinay Bhaat
Recording with support & location of Harkat Studios
Developed under Artists' Support Project by Tram Arts Trust, Harkat Studios & ThinkArts
ARTISTS' SUPPORT PROJECT
The pandemic has been harsh for the artists' community who have largely been forgotten for organisational support and by larger public consciousness. Those who could adapt to the digital, did. Majority have been out of work and earnings since March 2020. But artists have stood by artists. The support has come from within. This production is the result of the efforts of 3 individual object theatre artists who created digital shows and donated part income to this project, over 100 viewers and donors, and 3 arts organisations who came together to enable new performances by 3 deserving artists. This play is created by Mumbai & Delhi-based puppeteer Kapil Dev. By buying a ticket to this show, you will support an artist and art.
ABOUT THE ARTIST
Kapil Dev has been working in puppetry & theatre for the last 25 years. He taught puppetry & theatre at Salaam Baalak Trust for 11 years. He has directed 27 short & full-length plays for children & adults, conducted puppet theatre workshops for schools and NGOs. He has also worked in theatre, films, and TV serials as a puppeteer & actor. Buddy is his latest production.
Vinay Bhaat inherited the traditional puppet art of Rajasthan which he protects & promotes. He received his initial training in puppetry from his grandfather, the late Sh.Naurang Bhaat, a Sangeet Natak Akademi awardee in puppetry. Vinay Bhaat further specialised in puppetry from eminent traditional Rajasthani puppet artists Sh. Puran Bhaat & Sh.Lala Bhaat, also SNA awardees. Vinay has worked as a freelancer for Ishara Puppet Theatre Trust, Aakar Puppet Theatre, DD National, Kalakar Trust, CCRT, SNA amongst many others. He also performs modern puppet plays.
ABOUT TRAM ARTS TRUST
Formed in 2011, Tram Arts Trust is an Object Theatre Company based out of Mumbai & New Delhi, building their artistic work in order to explore the world with the 'theatre of objects'. Their work revolves around telling stories with the most ordinary things and to spread the magic of this simple, yet deeply profound art form in India! Tram's plays & workshops travel world-wide; include works for adults, children, family audiences, educators, arts based practitioners, and youth from varied backgrounds. Possibly India's first Object theatre company, Tram is dedicated towards practicing, excelling in & disseminating Object Theatre in India. www.tramarts.org
ABOUT HARKAT STUDIOS
Harkat is an international boutique arts studio with a passion for film, new media, community art spaces and contemporary art. Based in Mumbai & Berlin, Harkat takes many forms and identities across disciplines & related creative industries. As an alternative performance & arts space, we have hosted more than 250 shows in the past year in the mediums of theatre, film, music, community projects & contemporary art. We support the new, unheard, upcoming, exciting, cutting edge, the political, the forgotten, nostalgic, melancholic, soul stirring, the beautiful & more. And that's what Harkat is. Harkat. https://www.harkat.in/
ABOUT THINKARTS
ThinkArts was founded in December 2013 to facilitate high quality, transformative arts events for children and young adults, based on the belief that regular creative experiences are essential for children to develop their imagination and emotional intelligence. Based in Kolkata, ThinkArts has collaborated with over 75 partners across India and internationally to bring a diverse programme of literary, visual art, dance, theatre, and story-telling events to children and young people in several cities across India. Since 2020, ThinkArts has created India's first grant exclusively for creating work for children and young people, commissioned 9 digital performance works made for young audiences, and presented over 100 workshops and sessions online. https://www.thinkarts.co.in