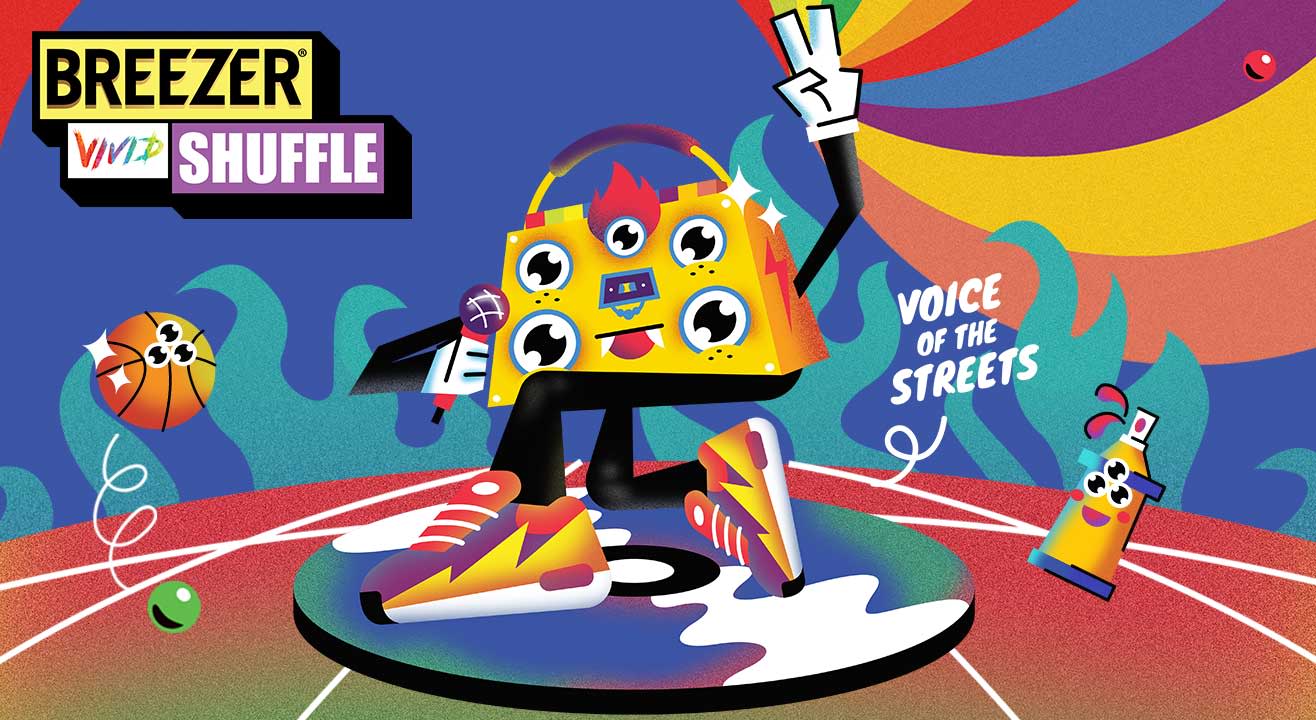 BREEZER Vivid Shuffle Season 5 is here!
Breakers, Poppers, Rappers, Graffiti Artists and Showcase Crews
Participate in India's biggest hip-hop league and compete for a part of 2 million!
Invite your friends
and enjoy a shared experience
We are India's biggest hip-hop league. And the Voice Of The Streets.
If you're looking for all things hip-hop or a stage to showcase your skills - you've come to the right place. BREEZER Vivid Shuffle Season 5 brings you a competition with a grand cash prize of 2 million, 101 masterclasses with the pros, and a platform to celebrate the culture. So join in the shuffle and #LiveLifeInColour.
5 categories, 2 million cash prize, Grand title
Registrations Closed Now. Watch those who were shortlisted perform at The Finale on November 21.

What's new in Season 5 - Voice Of The Streets
This year, we're going larger than ever with our biggest cash prize yet of 2 million
Since Season 1, we've been championing the people who push hip-hop forward in the country, and providing the culture a stage to thrive and expand. And in this pursuit, we've come to embody the Voice Of The Streets. Watch out because Season 5 has got the dopest talent from India coming in hot - right here on the Shuffle stage.
School of Shuffle Edition 3 is Here!
Here's how it's going to go:
League Qualifiers > League Team Selection > League Finale
Our Shuffle Fam
Celebrating hip-hop along with the industry sensations.
What's up for grabs for our winners?
- Grand prize of 2 million shared across all winners
- Performance and mentoring opportunities
FAQ's
When do registrations close?
Last date for submission is 3rd October 2021. There is no sign up fee.


What does the League team structure look like?
There are 4 league teams. Each league will have 4 poppers, 4 breakers, 2 rappers, 2 showcases and 1 graffiti artist.

Team Alpha - led by - Raja Kumari
Team Beta - led by - Srishti Dixit
Team Gamma - led by - Dhanashree Verma
Team Delta - led by - Dino James




Can I use a music track of my choice in my entry video?
You can use your own music in the entry video. Be creative!


How many entry videos can I submit?
ONLY 1 video can be entered for Breaking, Popping, Rap & Showcase (Duet/Crew) categories. Graffiti requires 3 submissions of your best original artworks.


Will my entry video be used by BREEZER Vivid Shuffle?
By submitting your video, you agree that your video/s can potentially be used in the promotion of BREEZER Vivid Shuffle.


How old do I need to be to participate?
You must be 18 years old to participate in the competition.


I registered but haven't received my confirmation email. What should I do?
Check your spam inbox. If you haven't received it, then send us an email at shuffle@oml.in from the email address you used to register or contact us on +91 7774058785.


Will I battle somebody in real life or online in E-Battles?
All battles will be LIVE and online e-battles on several BREEZER Vivid Shuffle online platforms till the Top 32 Qualifiers round.


How do the live online battles take place? Do I need special equipment to join a virtual live battle?
You can participate from your home using a computer, laptop, tablet, smartphone, or any device with proper video and 1 speaker to improve audio streaming capabilities. A member of our team will contact you to help set up.


Subscribe to receive our newsletter!
Find the best experiences happening out there in your city or enjoy handpicked content while sitting comfortably at home. Paytm Insider is your go-to place to figure out what to do today!