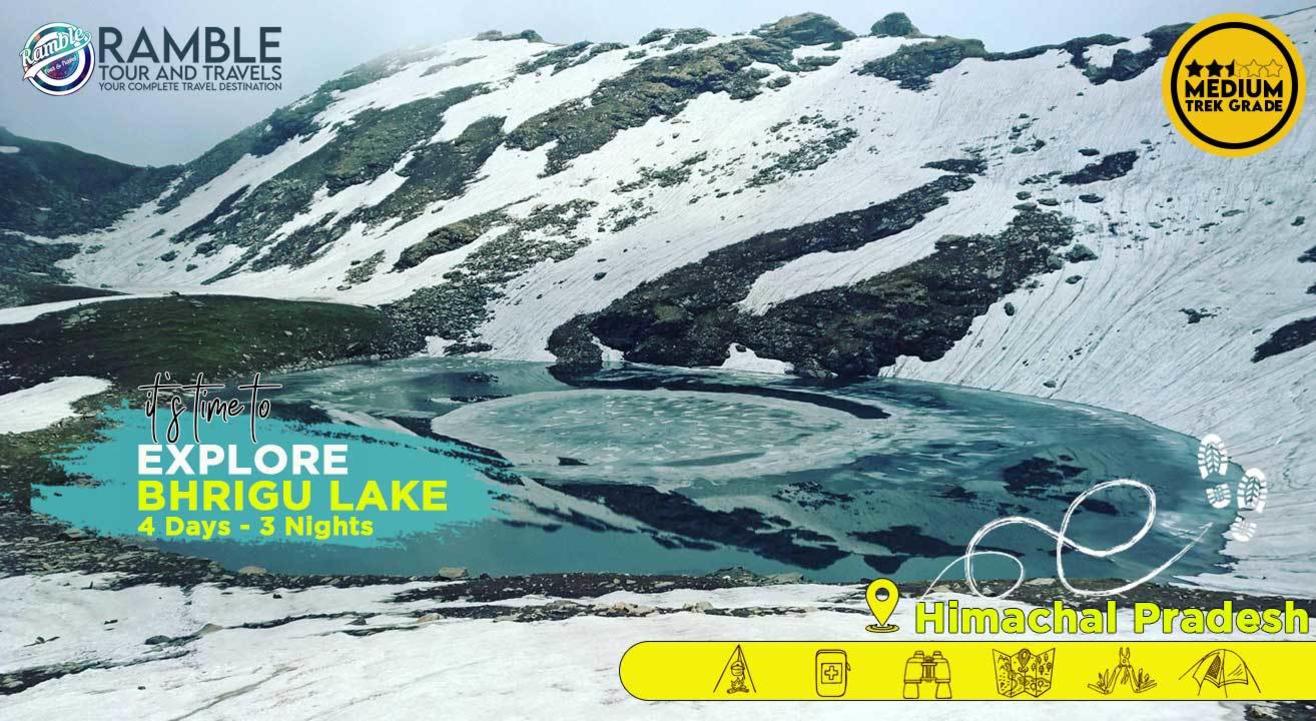 July 3 | 7AM - August 3 | 4PM
Step out and enjoy this event
Invite your friends
and enjoy a shared experience
Covid 19 Safety Measures
This event adheres to the following

Health & safety measures
Social Distancing
Temperature Checks
Face Masks Required
Limited Capacity
Contactless Service
Organisers wear masks
Registered on Aarogya Setu
Hand Hygiene Stations
Sanitisation before the show
Invite your friends
and enjoy a shared experience
Covid 19 Safety Measures
This event adheres to the following

Health & safety measures
Social Distancing
Temperature Checks
Face Masks Required
Limited Capacity
Contactless Service
Organisers wear masks
Registered on Aarogya Setu
Hand Hygiene Stations
Sanitisation before the show
About the Event
Bhrigu Lake Trek – Bhrigu Lake is a mythological lake, for this reason trekkers find it very intriguing. It siafterall named after the well-known saint Maharishi Bhrigu. It become believed that Bhrigu sat in deep meditation. The lake lots to provide as it has the prettiest grasslands.
To enter an alpine meadow in our country, one has to frequently spend at least a day or trekking in the tree line. We are talking of two or 3 days of tough ascent. This is because most alpine meadows begin at round 11, 000 feet, above the tree line.
However, on bhrigu lake trek , you are inside the meadows within the first 10 mins of this trek! Imagine having meadows inclusive of these right right here on your backyard. No surprise we move gaga over landscapes are visible in locations like Switzerland.
Itinerary:
Day 1: Pickup to you from Manali Mall Road , Near manali Bus stand at 11:00 am Drive from Manali to Gulaba Road head (22 km) (01 Hours' Drive same Day trek Jonker Bugyal
Total distance – 25 km – 2/3 Hours journey
Mode of journey – By taxi 22 km – On foot 03 km
Altitude –Jonker Bugyal – 10,370 feet
Night live – Our Camp site – on dual percentage basis
Journey commences from Manali mall road, on the Rohtang Pass Road towards the little hill corner hamlet of Gulaba Road head. Three hill towns—Kolang, Palchan, and Kothi marks the way, and it gets increasingly stunning with pine forests as we go. Snow covered elevations surround the little locale picturesquely. Sweet grasslands washed over via the watercourse of Beas would make notable frames at Gulaba, only if the Rohtang transit crowd wasn't there.
It will take nearly 2/three hours to the base camp where you may see the grasslands. This trek is difficult earned wherein the adrenaline rush is subsequent level. The grasslands will trap your attention as you'll be so awestruck by using the beauty. Overnight stay in camp
Day 2: Trek from Jonker Bugyal to Rola Khuli camp
Trek Distance – 05 km – 4/five Hours journey
Mode of journey – On foot
Altitude – Rola Khuli – 12,569 feet
Night Stay – Our Camp site – on twin share basis
Today we begin for an altitude of 12,569 feet. Spanning five km in four/five hours. It's going to be steep, steep walk, so you want to go equipped with 2 liters water and little snack bites to unwind between the trying out laps.
You will bypass via lot of forests, all right cedars. Your eyes might be glued to the aura around because of the stunning sight. There is a 20 mines stroll leaving at the back of forests and the green lush meadows will begin unfolding
This is the shepherds' zone where farm animals grazers are brought from the local villages during summer. You could discover a few mud huts and camp poles mendacity here. Keep the meadow in the back of and begin heading south. You gets to witness the height of Hanuman Tibba and the famous seven sister's peak. One can not miss to observe the spell bounding valley of Beas Kund Next comes another slight jungle cover, passing which the trail falls on to the rugged meadows again. The thrill climaxes whilst the direction receives narrower and steeper just before coming into the grasslands of Rola Kholi. At about 15 to twenty minutes some distance from reaching the campsite, we will be crossing nallahs and streams. Our camp is set near chor nallah at the Rola Kholi campsite.
Watch out for the night sky for zillion stars! You can do astrophotography if you are an avid star lover. Overnight stay in camp
Day 3: Trek from Rola Khuli to Bhrigu Lake (14,100 feet) and back to Rola Khuli
Trek Distance – 10 km – 6/7 Hours journey
Mode of journey – On foot
Altitude – Bhrigu Lake – 14,a hundred feet
Night Stay – Our Camp site – on twin percentage basis
Wake up early morning – Notice the changes in the landscapes from what you have been experiencing inside the days before. Start early within the morning as we can travel across a distance of 10 km in approx. 7-8 hours on a totally steep and stony direction. The meadows appearance so dreamy that this can trap everyone's attention particularly the photographers. The clean wind inside the mountain is captivating. Till June, Rola Khuli may be protected in snow. One will begin noticing the gradients of brown, inexperienced and white once the snow melts off.
On the closing leg of the trail, it's relatively recommended to go slow and no longer hurry at all as the route is ridden with scree and slippery boulders. The alpine lake becomes visible between the two ridges that we reach on the stop of the ultimate boulder-certain lap. The lake is called after a saint Called Bhrigu. It has lot of mythological connotations related to ancient myths. Spectacular peaks like Pir Panjal Range and Dhauladhar range are we able to seen from the surroundings of the lake. Back to Rola Khuli camp overnight stay in camp
Day 4 : Trek from Rola Khuli to Gulaba (06 km) (3/4 Hours) equal day force to Manali Reach evening 4:30 pm
Trek Distance – 28 km – 5/6 Hours journey
Mode of journey – By taxi 22 km – On foot 06 km
After breakfast – We head back to base camp treading via the inexperienced meadows of Gulaba which might take 2- 3 hours and again from there to Manali through Taxi, will attain Manali in among 4:30 pm.
What's Included
Meals during the trek (Starting Lunch on Day 1 till Lunch on Day 6)
Forest Permits/Camping Charges (only if availing transportation through Ramble Tour and Travels)
Tents on twin sharing basis, Sleeping bags, mats
All camping gears
Micro-spikes, Helmets, Gaiters, as required
Experienced Trek guide, cook, helpers, Mules or porters for carrying common supplies
Mountaineering course certified Trek Leader with First Aid certification along with special rescue course from NIM, Uttarkashi
What's not Included
Portage of personal bags during the trek
Cost of any kind of Travel Insurance
Any Expense of personal nature
Any Expense not specified in the inclusions list
LIST OF ESSENTIALS
It is very important for this adventure trip that you need to be equipped properly and with a bit of back up. Mountain/adventure travel requires one to be adequately equipped with the right kind of personal gear. Since one is travelling in the wilderness there will be hardly any opportunity to buy anything once you hit the trail so we urge you to carefully pack everything into your bags. Also please keep in mind you can rent out or purchase equipment from our Gear Store, if required.
Shirts / T-shirts – 2/3
Warm shirt/light micro fleece pullover/full sleeve T shirt
Trekking Pants (water resistant/repellent & having inside lining for extra warmth) – 2
Windproof/water resistant outer shell (jacket) of good quality (no flimsy wind cheaters please!) with a proper hood
Down jacket with min 600 fill power rating
Thick Fleece / Full-sleeve Woollen sweater
Thermal inner wear (upper & lower)
Woollen cap (Balaclava)
Inner fleece gloves
Outer water proof gloves
Thick woollen socks & regular socks (4 – 5 pairs)
Scarf/muffler (optional)
Comfortable waterproof (Goretex) Trekking/Hiking shoes (shoes with a thick sole and high ankle are recommended)
Camp shoes (these can be easy to slip in sneakers/sport shoes)
Gaiters
Raincoat / Poncho
Small light weight towel
Insulated water bottle & hydration pack (optional)
Cap / floppy hat to keep the strong sun away from your face
Sun glasses with UV protection and ability to cut the glare (imp when traversing through snow)
Sturdy walking stick / Trekking pole
Sunscreen Lotion
Lip Balm
Torch / Flashlight (with extra batteries)
Medicines, if requiring any specific medication
Personal toiletries
Book, if you like reading
Day pack/small bag which you will carry on your back every day and keep your essentials in it Carry rain cover for your bags
Keep a few poly bags or waterproof bags in your bag in which if required you can put your belongings in case of heavy rain
Camera if you like (with fully charged batteries)
Carry Personal Medical Kit
Personal Medical Kit (Carry minimum 5 tablets and maximum 10) (Our Trek Leader always keep a specialized Medical Kit but we always advise you to keep a Personal Medical Kit)
Medical Kit
Diamox – (Prevents altitude sickness)
Digene – (It cures discomfort in stomach, acidity)
Crocin Advance – (Cures fever and headache)
Aspirin/Combiflam – (Pain reliever)
Disprin – (Cures headache)
Avomine – (Prevents motion sickness)
Avil – (It treat allergies)
Norflox TZ & Lomofen – (Prevents Diarrhoea)
Ranitidine – (Reduces the amount of acid in stomach)
Volini/Moov spray – (For sprains)
Betadine/Savlon – (Antiseptic cream)
ORS
Band aid
Cotton
Stretchable/Elastic bandage
Gauze
Note: Use medicines only when prescribed by the doctor. In case you face any problem during your trek, discuss and take advice from the Professional guide.
Terms and Conditions
Age Limit: 15 & Above
In the Himalayan region, the climate is unpredicted, we strive to provide every comfort however you have to be organized for some compromises.
We are not liable for any losses at some point of your whole journey or any injuries at the trek.
If the trek is cancelled via us because of any purpose (heavy snowfall, rainfall, herbal disaster, etc.) then refund would no longer be initiated but you can go at the identical trek next year.
If climate changes, we are able to exchange the trek routes.
If you return in between the trek because of any cause then, on this case, you will be provided stay if there's our accommodation at the trek in hotel/guest residence or homestay. Otherwise, you have to pay in your expenses.
Do no longer consume alcohol during the trek it is totally banned
If someone is a chain smoker then he has to head 300 meters faraway from the camp to smoke
Tickets as soon as booked cannot be exchanged or refunded.
We recommend that you arrive at least 20 mins prior at the venue.
Do no longer carry precious things like jewellery or another thing.
Participants should no longer deface or damage any monument via writing or scribbling on them. Please help us to conserve and keep our heritage along with our Trek Buddies.
Your protection is our prime concern and we do now not make any compromises on the same. Please abide through the commands of the Trek Buddies always in the course of the event in your own safety and protection of the institution members. Each member will be responsible for his/her own protection and baggage.
Taking pics or selfie close to the edges aren't allowed. Please make certain to preserve your Trek Buddies knowledgeable if you want to transport away from the institution for any reason.
Participants are requested to hold the waste returned to the metropolis and dispose it off in dustbins. We accept as true with that, "when you visit the mountain leave most effective your footprints and bring lower back most effective memories"
7 days before your Trek date, we are able to send you a mail / SMS with whole info of factor of contact, things to carry, directions etc.
The organizer does no longer take the responsibility for the loss or robbery of any personal assets or any damage that the ticket holder may also accrue at the events.
There are chances that you could sense the effects of altitude sickness and oxygen deprivation at the same time as on this trek. Please conscious that the trek leader may deem it unsafe with the intention to continue trekking at any time, and arrange for you to descend to a lower altitude.
The trek leader will conduct recurring health checks in any respect camps to measure oxygen saturation, pulse, and blood pressure. Ramble Tour and Travels reserves the proper to exclude any trekker from climbing better on the trek without monetary refund if the trekker's vital readings are under widely wide-spread norms for that altitude. These norms are to be had with Ramble Tour and Travels trek leaders.
You have to realistically self-assessed your fitness and suitability for this trek before registering.
Mall Road, Manali
Mall Road, Manali, Himachal Pradesh 175131
GET DIRECTIONS