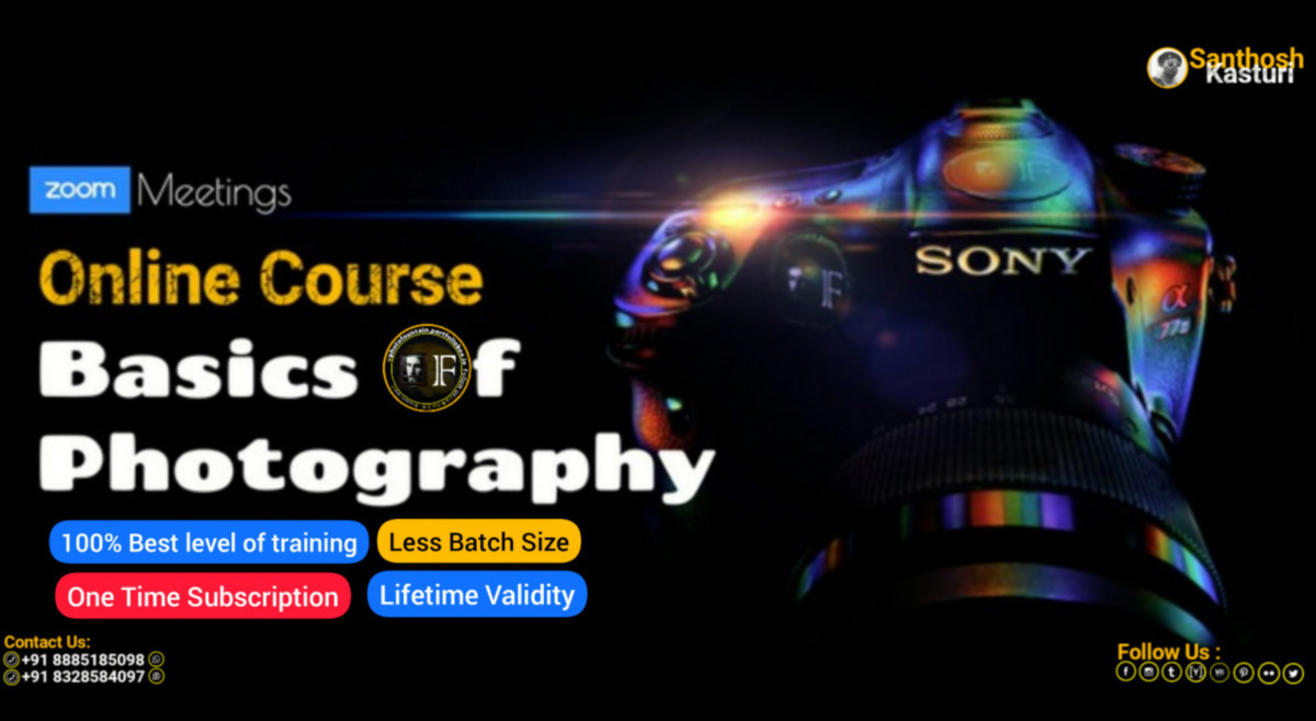 Basics Of Photography - 2 Day Online Course
April 17 | 12PM - May 30 | 1PM
Enjoy this event from your home
Event Guide
Masterclass
Learn from an expert
Invite your friends
and enjoy a shared experience
Event Guide
Masterclass
Learn from an expert
Invite your friends
and enjoy a shared experience
About the Event
Photofountain is more Focused and Challenged to provide quick learning strategic training and Hyderabad city's most active photography community.
Our goal is to provide you the best level of training and also in the less duration of time so that you are able to capture the photograph in smarter way from day 1.
Photofountain gives assurance that after this course, you will be able to make the best possible decision making on choosing the right camera settings to photograph the picture of any type of photography genres with respective to different lighting conditions and also considering the best quality of image.
Schedule :
2 Day Course Schedule :
Day 1 - Saturday :
Session 1: 12:00 PM to 12:40 PM
Break : 20 Minutes - 12:40 to 1PM
Session 2 : 1PM to 1:40 PM
Day 2 - Sunday :
Session 1 : 12:00 PM to 12:40 PM
Break : 20 Minutes - 12:40 to 1PM
Session 2 : 1PM to 1:40 PM

Day1 : Focusing
Focusing the subject is the first primary goal before you capture any photograph. Understand how to focus the subject with respective to different photography genres. ( Focusing settings & techniques).

Day 2 : Exposure & Other Camera Settings.
Understand how make the best possible decision making on choosing the right exposure settings with respective to photography genre.
How we provide Online Training & the Strategy :
"Zoom Meeting" screen sharing
- > Listen to the topic
- > Practice at your Location with camera for better way understanding.
-> Move to the next topic.
https://youtu.be/xXwNctE_F7c
________________________________
Why to choose Photofountain:
1. Very less Batch Size - 5 Students per batch, because it will be easier to understand the level of student's understanding level & based upon photography scenario will be explained.
2. Two side Communication between the Trainer & Student.
3. One Time Subscription charges. ( It is valid for life time, our ultimate priority to train you & make you understand in better way.
4. Less Duration of course time. ( other Institutions in market, they provide the course 1 month to 3 month).
5. Less Course Fee.( Compare to market we charge very less).
________________________________
Terms & Conditions:
1. Once after registration, we'll give you Unique Reference ID for authentication purposes( We validate in our database ) . In case you miss the session or unable to attend the workshop, then you flexibility to attend workshop in any random schedule in Bodhirooms or any random month or week by using reference ID.

2. Registration amount will be refunded.

3. For any queries or details please contact us.
Demo Video - English Version : https://youtu.be/YOh5OiRyfdw
తెలుగు వెర్షన్ : https://youtu.be/wgFBHsuXSqU
For details of the Course & let us know what is your goal on learning Photography, visit
https://form.jotform.me/93141150398455
Contact us at 8885185098 or 8328584097 for any queries.
Photofountain - Get Trained To Capture Anything
Capture Smarter Way.
Join Photofountain - Your feedback is more valuable than you pay. That is how we grow in the market.
Photofountain - Online Training Strategy