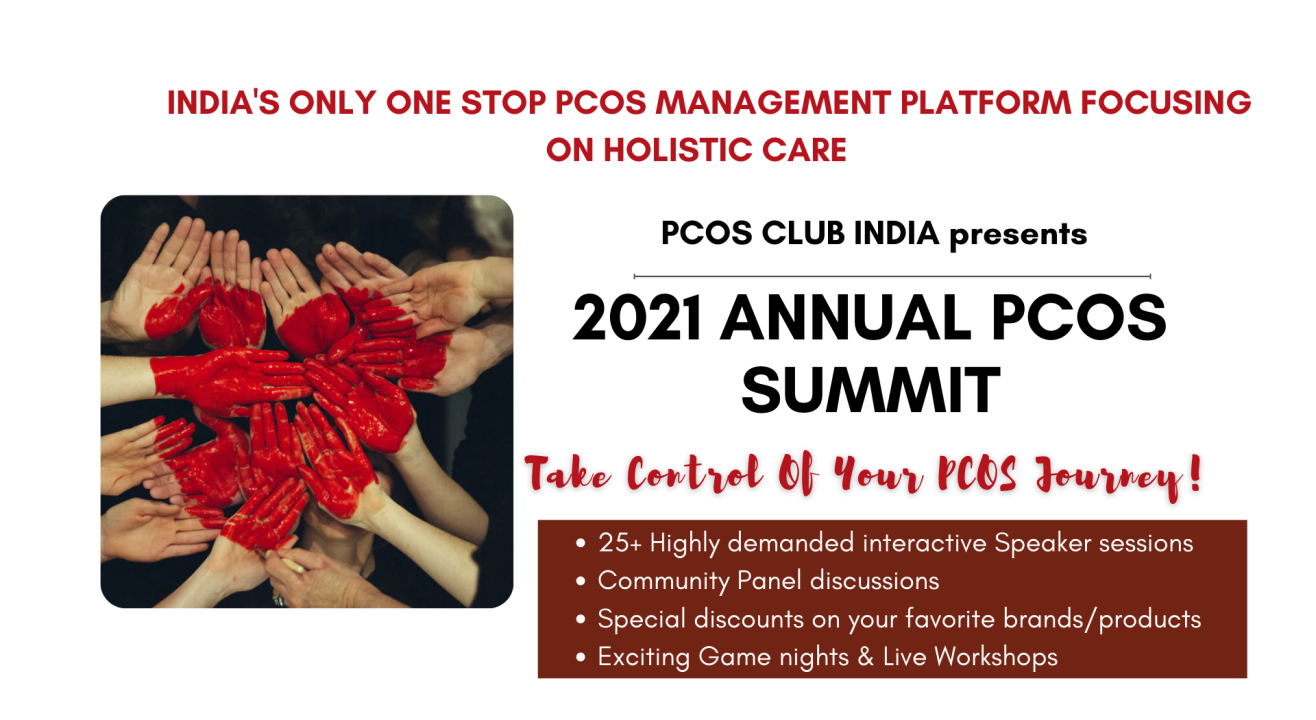 September 18 | 10:30AM - September 19 | 7:30PM
Enjoy this event from your home
Event Guide
Masterclass
Learn from an expert
Invite your friends
and enjoy a shared experience
September 18 | 10:30AM - September 19 | 7:30PM
Enjoy this event from your home
Event Guide
Masterclass
Learn from an expert
Invite your friends
and enjoy a shared experience
Event Guide
Masterclass
Learn from an expert
Invite your friends
and enjoy a shared experience
POLYCYSTIC OVARY SYNDROME
PCOS [Polycystic Ovary Syndrome] is one of the most critical, under-diagnosed, mis-diagnosed, and neglected areas of health. There is a huge health disparity when it comes to PCOS diagnosis and support. Latest research confirms that at least 26% of women in India suffer from PCOS, it's fair to say PCOS needs so considerable attention more than EVER!
WHY THIS SUMMIT?
On Account of the global PCOS awareness month 'September', PCOS CLUB INDIA is hosting its first ever Annual 'PCOS SUMMIT 2021', a 2-Day Virtual Conference hosted by with a mission to
Increase awareness of, & education about, PCOS among the general public, menstruators & healthcare professionals.
Improve diagnosis and treatment of the disorder.
Improve quality of life and outcomes for people with PCOS.
Promote the need for further research, improved treatment & care options,
Acknowledge the struggles affecting all women and girls afflicted with PCOS.
Urge medical researchers and healthcare professionals to advance their understanding of PCOS to research, diagnose, and provide assistance to menstruators with PCOS.
The summit welcomes anyone who has PCOS; health practitioners who are helping people with PCOS with their treatments, clinical researchers who are looking to understand the latest research on PCOS, local/ regional communities that are disseminating information about PCOS or individuals/ institutions who want to increase their awareness about PCOS.
WHAT IS HAPPENING AT THIS SUMMIT?
Get access to 25+ PCOS experts providing evidence based "holistic" ways to manage your PCOS ( registrations open worldwide and recordings will be available to all participants after the event)
👉Topics we will cover-
- Everything related to Gluten & PCOS?
- How to include enough Protein for your PCOS?
- What does Milk have to do with PCOS?
- Improving Fertility & Conception with PCOS
- Dealing with PCOS Hair Loss and Supplements you wished you knew earlier
- Best Practices while coming off the Hormonal Pill
- Taking care of your Mental Health
- Secrets to tackle Lean PCOS
- Science behind Inositol, how much to take and how?
- Top Mistakes while diagnosing PCOS : Based on Latest PCOS Research
- Effects on Soy on PCOS
- Does Plant based eating really helps with balancing hormones?
- Evidence based Talk on CBD Oil & PCOS
- How to manage Hirsutism & dealing with PCOS Skin issues
- Improving Sexual Health with PCOS
- Eating Disorders with PCOS
- Addressing Sleep disorders
- Best practices for health practitioners and health communities
See our event page: https://pcossummit2021.samaaro.com/
Visit our mission at : www.pcosclubindia.com
PCOS SUMMIT 2021 by PCOS CLUB INDIA