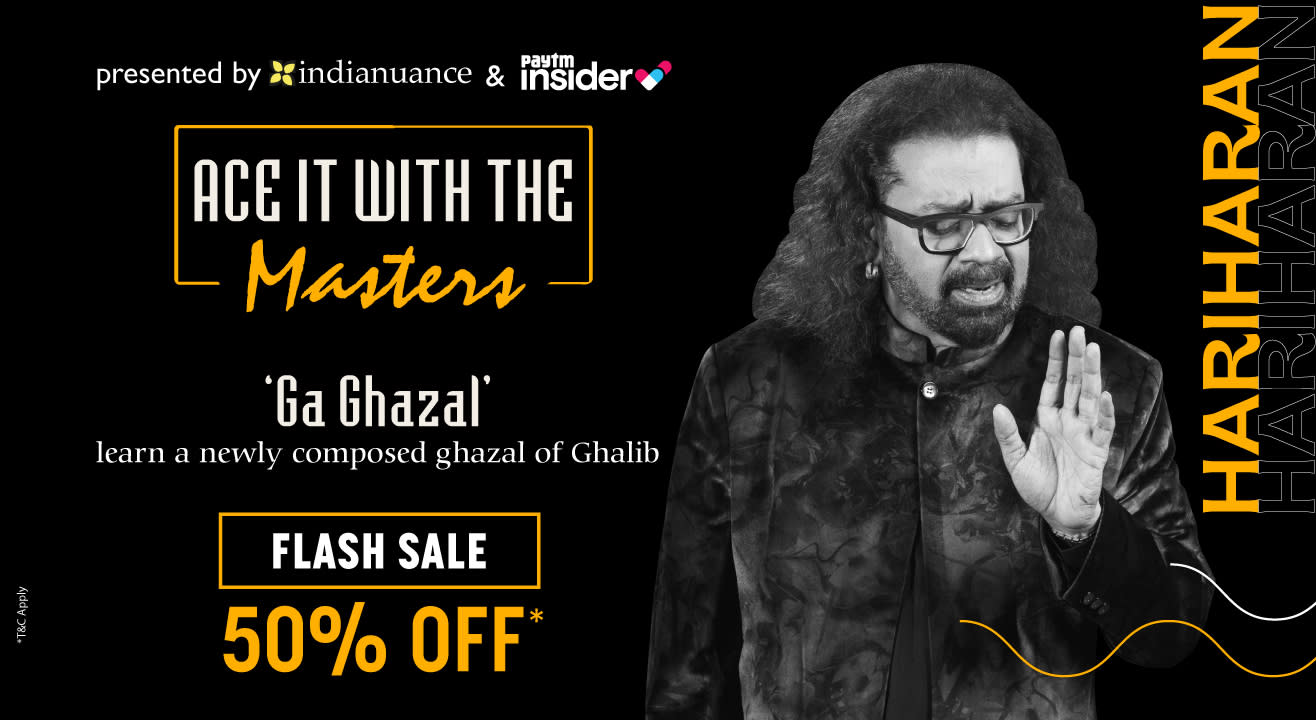 Ace it with the Masters | Ga-Ghazal with Hariharan
November 20 & 21 | 6PM - 7PM
Enjoy this event from your home
Event Guide
Digital Event
Join on Zoom
Masterclass
Learn from an expert
Invite your friends
and enjoy a shared experience
Ace it with the Masters | Ga-Ghazal with Hariharan
November 20 & 21 | 6PM - 7PM
Enjoy this event from your home
Event Guide
Digital Event
Join on Zoom
Masterclass
Learn from an expert
Invite your friends
and enjoy a shared experience
Event Guide
Digital Event
Join on Zoom
Masterclass
Learn from an expert
Invite your friends
and enjoy a shared experience
'Ga Ghazal' is a first of-its-kind masterclass by Hariharan, where he will teach the participants one newly composed ghazal of Ghalib.
The ghazal has been specially composed for the masterclass, giving the participants the unique opportunity to not only learn from the this ghazal maestro but also learn a composition hitherto unheard.
Over 2 sessions, Hariharan will split the Ghazal into two learnable sections, so as to allow participants to grasp the finer nuances of the lyric and melody. A Q&A segment shall conclude each session.
Who is this Masterclass for?
• Anyone with some prior training in music, classical or other
• While non-Hindi/Urdu speaking participants are welcome, some basic familiarity with the language will be useful for learning the ghazal
• Instrumentalists can attend the masterclass provided they have a strong command over their instrument and its ability to produce nuanced sounds rooted in semi-classical music
About Hariharan
Hariharan is a name that has come to symbolize soulful singing.
From his A.R Rahman hits 'Thamizha Thamizha' and 'Tu Hi Re' in Roja, to 2 National Awards for the songs 'Dushman Mere Bhai' and the Marathi song 'Jiv Rangla', he has sung in multiple languages and remains one of the most popular playback singers in India.
Hariharan has the unique position of being equally well known as a ghazal singer and a contemporary singer in his fusion avatar with Leslie Lewis as Colonial Cousins. His ghazal albums have resonated with a whole new generation of listeners. In several of these successful albums, Hariharan himself composed the tunes. Some of his notable ghazal albums include 'Aabshar-e-Ghazal' with Asha bushel, Hazir with Zakir Hussain, 'Kaash' and 'Lahore Ke Rang Hari Ke Sang'.
He was awarded the coveted Padma Sri award in the year 2004 for his outstanding contribution to music.
Requirements for the Masterclass
• A stable internet connection. We advice the use of a laptop or desktop to get the best experience
• Access to an electronic Tanpura or a Tanpura app
Etiquette to keep in mind for the Masterclass
• The masterclass is being held for students of music & Urdu Poetry & Ghazal enthusiasts only. Any deviation from the subject of the masterclass will be strongly discouraged
• Q&A sessions will only cover queries and doubts on the Ghazal being taught in the masterclass. Generic questions related to the artist, their musical journey, likes/dislikes, or requests to sing popular songs, will not be entertained
• The sessions shall not be recorded by any of the participants. If any such recording is noticed, that participant may be asked to leave the masterclass without any refunds
• The sessions will start strictly on time. Any delay from the participants to join on time or attending the sessions will not be adjusted later
• All participants will receive an e-certificate signed by Hariharan upon successfully attending all sessions of the Masterclass.