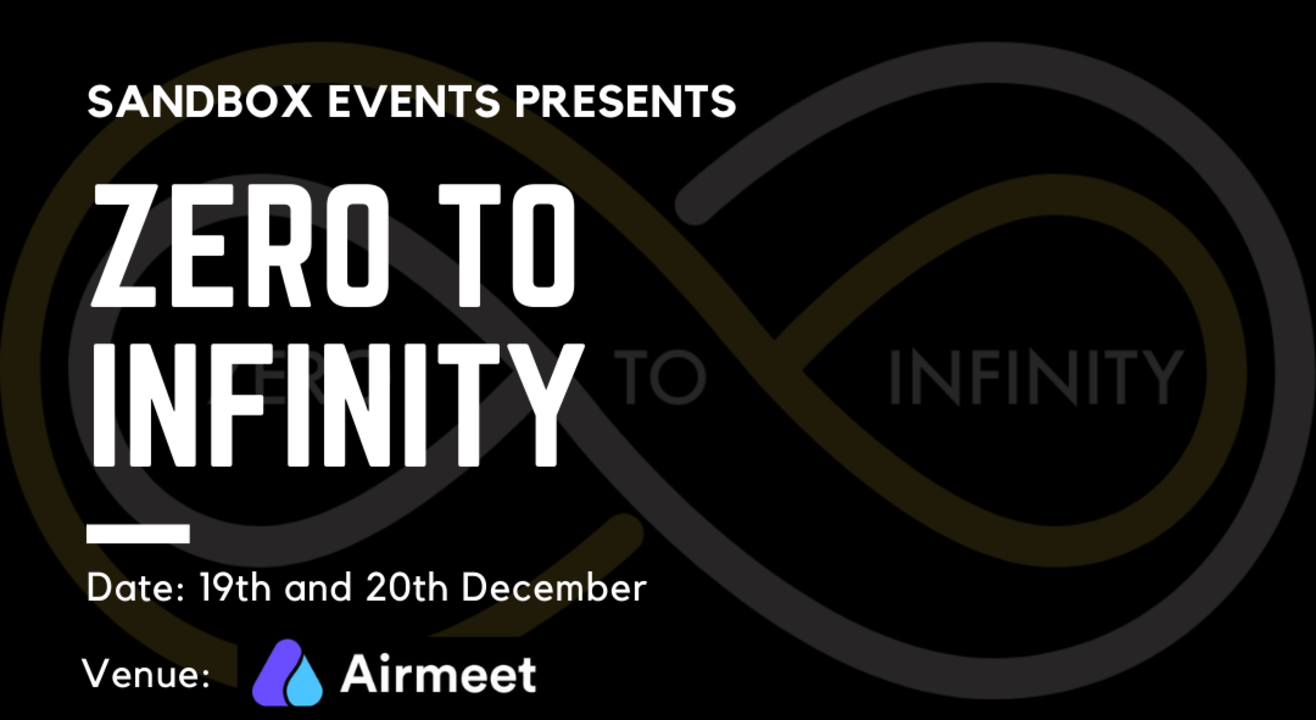 December 19 | 3:30PM - December 20 | 5:00PM
Enjoy this event from your home
Invite your friends
and enjoy a shared experience
Invite your friends
and enjoy a shared experience
About the Event
Amidst this pandemic, sedentary work and virtual meets became the new normal, leaving behind the old habits. In this pandemic, we realized that skills and habits are the only things which will help you survive in any kind of circumstances.
Keeping that in mind, we came up with the idea of virtual workshop and e-summit, with the theme of Zero to Infinity.
Zero to Infinity will be a 2-day event in December 2020, comprising of 7 different workshops and talk shows combined which will be taking place over the course of 2 days. This event will focus on the following topics, i.e Workout, Nutrition, Blogging, Calligraphy, UIUX Design, Marketing and Finance. Stay tuned for more updates about the facilitators for the events.
Follow us on Instagram @sandboxevents for more updates and exciting information.
Workshops for 19th December
3.30 PM: Manage personal finances | Gaurang (@askthatfinanceguy)
5.10 PM: Design your dream using UIUX | Bhavishya (@bhavishyagarg1)
6.00 PM: Strengthen physical & mental health |
Ritu & Mallika (@itsallaboutjourney)
Workshops for 20th December
10.00 AM: Zero to Infinity | Gaurav Pawar
(CEO, IT's ALL ABOUT JOURNEY)
10.45 AM: Burn your calories | Rutvik Chavhan (@itsallaboutjourney)
11.40 AM: Decorate your rental stay | Anjari Ganguly (@thatyellowtrunk)
01.30 PM: Calligraph your writings | Niru (@niruscalligraphy)
02.35 PM : Capture your cuisine | Shubh Abbott (@foodyjabalpur)