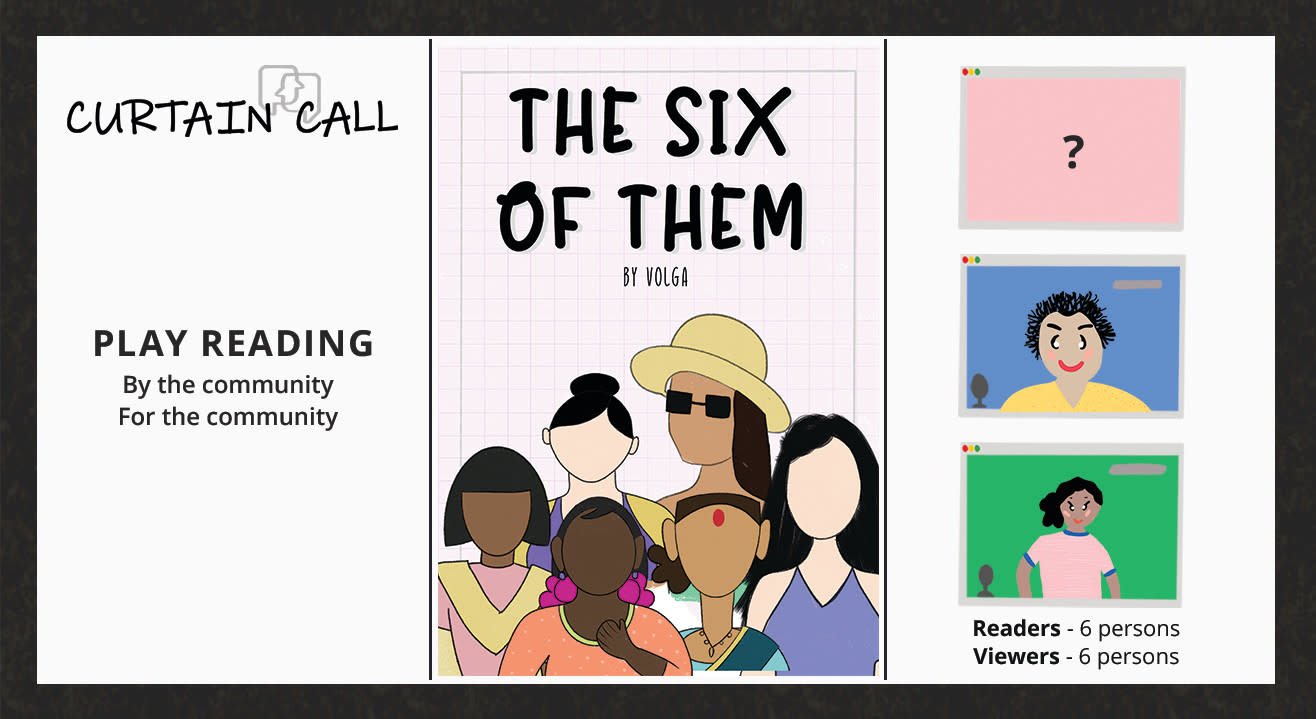 TP Curtain Call - A Community Play Reading Initiative
December 6 | 4PM - November 29 | 6PM
Enjoy this event from your home
Invite your friends
and enjoy a shared experience
Invite your friends
and enjoy a shared experience
About the Event
About the Event
WHAT
At Curtain Call, we create intimate virtual spaces to read different thematic plays. Given the social relevance of these plays, each reading is followed by an in-depth, guided discussion on the various themes, facilitated by Aanchal Jain. YOU DO NOT REQUIRE ANY PRIOR EXPERIENCE IN THEATRE OR ACTING.
HOW
Every month, we gather and connect on Zoom, to pursue the collective interest of reading a play. Each participant is, randomly ascribed a character. They read the lines, and pour their emotions into the lines. Post reading, we engage in a robust discussion to unpack various themes and foster diverse perspectives on the various concepts and issues emerging in the play.
PLAY FOR OCTOBER
6 Women. From 6 popular novels. 1 Imaginary Conversation. 6 narratives. 6 journeys.
The Six of Them imagines a space for women to share their narratives, devoid of the patriarchal restrictions, very present otherwise. All 6 characters come from diverse socio-economic locations. The play adopts carnivalesque, as proposed by Bakhtin (1984), that conceives the idea of 'flouting of the authority and inversion of rigid social hierarchies'. The women in the play constantly challenge the social superstructure maintained by the patriarchal society of India. The play explores these women's engagements with marriage, violence, sexuality, love and liberty. Our contemporary understanding of Indian History, which has largely eclipsed women's experiences, can also be critically reviewed through this play.
Find more details here - bit.ly/tpcc_mailer