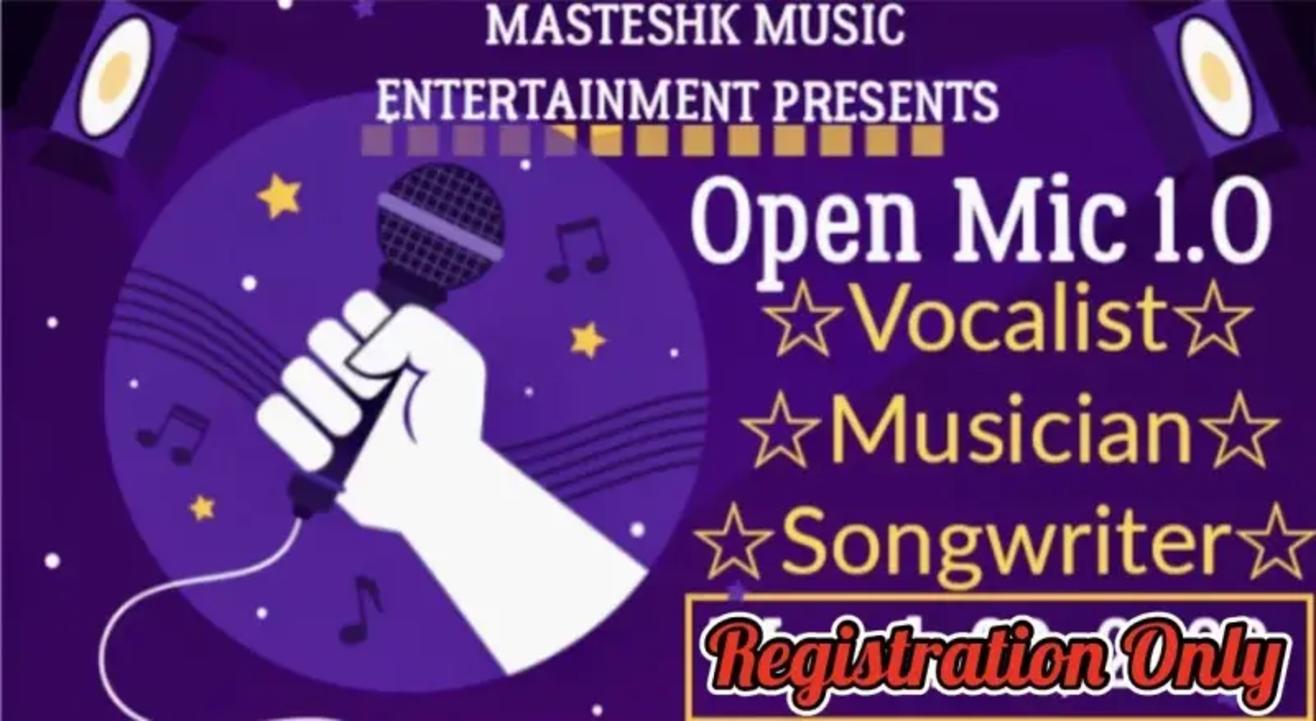 THE PLATFORM FOR SINGER/LYRICIST/MUSICIAN - MASTESHK MUSIC EVENT OPEN MIC [ WORLD MUSIC DAY ]
Enjoy this event from your home
Invite your friends
and enjoy a shared experience
Invite your friends
and enjoy a shared experience
About the Event
Hello Buddy's !
We are going to start a new Journey from 2021
( Come & Join Us )
This is an open mic event for singers and musicians .The best platform for New and Upcoming Youth Musician . We promise you the quality. It will be the best choice to meet with the people with the same passion and dedication like you. Come to make your Sunday a beautiful and memorable one
!! Register Here !!
https://www.townscript.com/v1/e/masteshk/booking
Kindly Read The Terms and Conditions Below.
1. A performer should be at least 18 years old.
2. Performers should have good communication skills.
3. A performer should have good command over the pronunciation of English , Hindi & Urdu
4. Audience and kids are not allowed
5. Unauthorized photography and videography are strictly prohibited
6. If you want to sing in another language (Ex - Punjabi, Haryanvi ) We Welcome you
7. A performer has to send your several photos for posters
8. Performer video will be recorded and uploaded on our official youtube channel
9. Performer can use only 30 seconds of video for your social media account.
10. This is very important all of you. We don't charge anything else for video and recording
!! Register Here !!
https://www.townscript.com/v1/e/masteshk/booking
11. We are going to make a community for all Singers and musicians who want to make their career in the music profession
12. You must carry the booking Tickets from Insider along with a valid id proof
13. Please Reach the venue 15 mins before the event start time
14. There will be a one time charge to participate in the event.
15. Please fill the registration form clearly.
16. You'll be notified about your selection(FOR YT)on the email id or contact no. you provide through this form. So make sure they are correct.
17. In case of any query, feel free to drop a mail or may contact us through Manilovemany@gmail.com
18. Every performer will get his own original video cut within 15 days of the event.
19. A raw video wouldn't be provided in any case
20. lf you are not comfortable with facing the camera, but you have a good voice. So we will help you
(Hey don't be shy and show your talent)
!! Register Here !!
https://www.townscript.com/v1/e/masteshk/booking
Note: If there is any update, Mastishk can make some changes to the event. Kindly read all the terms & conditions before booking the slot.
You are agreed with the T&C mentioned above.
If you are a music lover this is the best place where you can Spend and Invest your weekend. We are inviting you to the one of the best music show of singers and Musical Instruments Player . You will see young talent
Seats are limited so hurry up !! and register your spot at the earliest.
What You Will get:-
Live singing sessions of singers
Use our platform to improve yourself
A good time with your partner.
Lunch (buffet)
Entry in VIP Whatsapp Group
Young talent to get motivation
Have some fun time
!! Register Here !!
https://www.townscript.com/v1/e/masteshk/booking