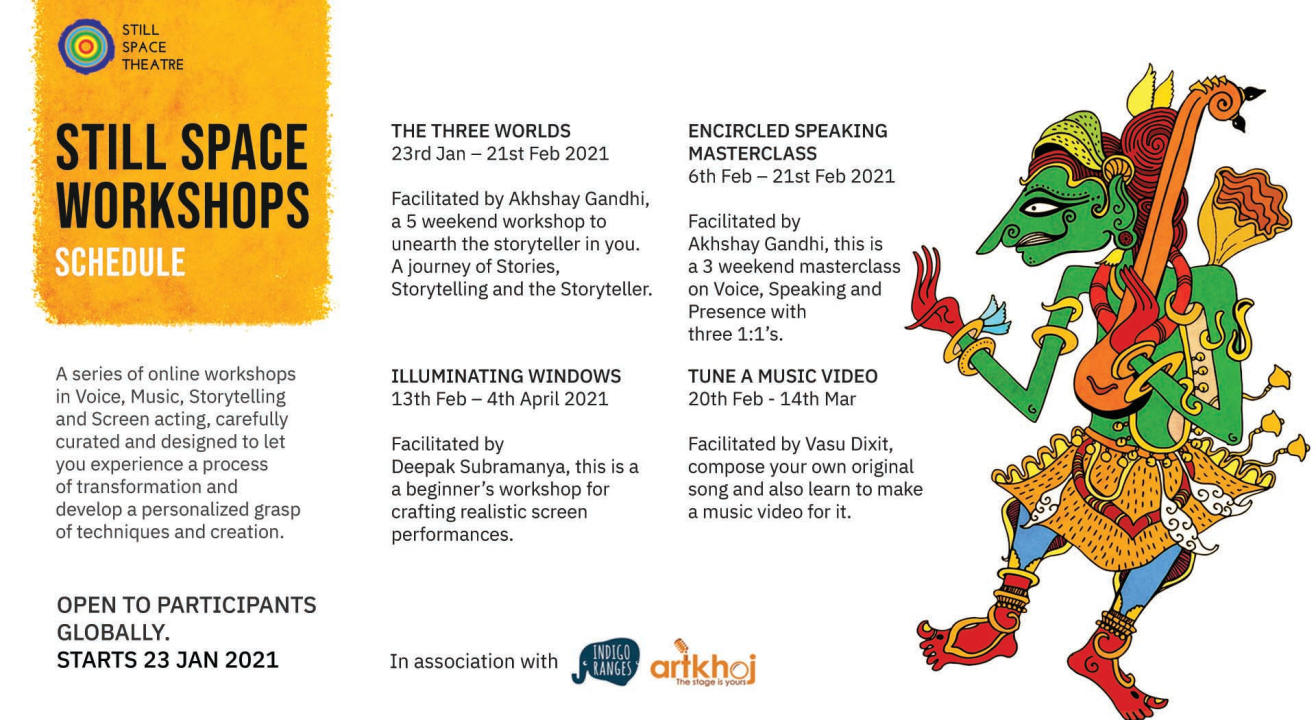 Still Space Theatre Online Workshops - Season I
January 23 | 6PM - April 4 | 9PM
Enjoy this event from your home
Invite your friends
and enjoy a shared experience
Invite your friends
and enjoy a shared experience
About the Event
Still Space theatre in collaboration with Artkhoj brings you a series of online workshops in Voice, Music, Storytelling and Screen acting, carefully curated and designed to let you experience a process of transformation and develop a personalized grasp of techniques and creation.
______
If you have any queries about the workshops and want to talk to our facilitators before registering for the workshop, please provide your details here:
https://events.artkhoj.com/participant-queries
______
23rd Jan to 21st Feb: The Three Worlds
With Akhshay Gandhi.
A 5 weekend (13 sessions) workshop for the storyteller in you. A journey through Stories, Storytelling & Storyteller.
23rd Jan – 21st Feb 2021
Sat-Sun: 6-9 PM IST
10 group sessions
3 individual sessions
Course details:
This course has been designed as a journey for each individual to explore the storyteller within themselves. It will enable you to give voice to your stories, in a way that's distinctly yours.
Dive with us to explore;
Craft of a performer,
Ocean of Stories &
Storyteller in you.
The Three Worlds, is designed & facilitated by Akhshay Gandhi. This brings together his research in storytelling over past 4 years along with his collaborator Rohit Bhasi (Visual Artist).
His work on Kaavad storytelling tradition has been a journey into drawing inter-relation between Folk, Stories, Symbols, Rituals, Story-structures, modernity and Performer's craft. The course is also designed as a journey for each individual to explore storyteller with-in themselves.
______
6th Feb - 21st Feb: Encircled Speaking Masterclass
With Akhshay Gandhi.
A 3 weekend (9 sessions) masterclass on Voice, Speaking & Presence with three 1:1 s, enhancing vocal performance for speaker, leader, performer, executive etc.
6th Feb – 21st Feb 2021
Sat-Sun: 10-1 PM IST
6 group sessions
3 individual sessions
Course details:
A 3 weekend workshop on learning the active practice of integrating Body, Mind and Energy for mastering the art of speaking which is authentic, purposeful and compelling. Over 6 group sessions and 3 individual sessions we will learn techniques, develop a deep somatic awareness and cultivate strong grasp on Voice, Speaking Text & Presence.
Process is designed to notice subtle transformations and trace an individual's growth, encouraging us to discover our own unique way of crafting speaking skills, transcending style or genre of being a speaker. Have proved to be very effective for Leaders, Actors, Public Speakers and Technical leads but it is open to anyone who is committed to speak with influence & inclusivity.
Key Concepts:
Vocal Techniques & impact, Text & Beyond, Circles of awareness, Natural & Performative Voice, Communicating & Framing Ideas, Embodied gestural language, Structures & Presentation Composition.
About Facilitator:
Akhshay Gandhi is an artist-practitioner based in Bangalore, India. He works as Director, Actor & Facilitator-Researcher in the field of Theatre & Performance. Invited Speaker at TEdX, Economic times Summit, 505 circle and other formal- informal platforms. His work has been performed at venues such as Stanford University, UCLA, Spoken Festival, Mumbai International Storytelling festival to name a few.
He is an alumni of 'SITI Company' (New York) & 'Odin Teatret Laboratory' (Denmark).
To know more about Akhshay Gandhi;
https://www.akhshaygandhi.com/
______
13th Feb - 4th April: Illuminating Windows
With Deepak Subramanya.
A beginner's workshop for realistic screen performance.
13th Feb – 4th April 2021
8 weekends / 16 sessions
6:30-9PM IST
Course Details:
Insight: Realism as a Form -
Though realism borrows its mnemonics heavily from real life it still is a form and demands from all its students the basic tenet of any form – Technique and Practise to Create. However Realism as a form is misunderstood to be a replica of reality which has taken away the need for technique and practise, in short CRAFT from the students/practitioners of realism.
Intent: To bring Craft to Capacity
Platform: Online, Zoom
Who can enrol: Working professionals / students who would want to explore the basics of crafting compelling characters for screen acting – Get your audition tape
Elements of the Program:
Universal Dramatic Tenets IOSMA
Approaching a script – Character Bio and Assumptions, Scene Facts
IOSMA Application – To your scene
Improvisation - Scene Composition
Screen Acting Protocols – Frames, Composition
Show – A zoom production
Audition Tape
About the Facilitator
Deepak is a film and theatre actor who has worked in 5 feature films and several short films. He has acted in +50 theatre productions, with 300+ shows across India. He has also been in several ads and brand shoots. He is a trained flautist and an amateur Yakshagana dancer. He is also a course author and facilitator of acting courses for theatre and film acting.
______
20th Feb - 14th March: Tune a Music Video
With Vasu Dixit
Compose your own original song and make a music video for it.
16th Jan - 7th Feb 2021
Between 7-9 PM IST (session length will vary based on each participant for best learning)
There will be 8 classes of ~1 hour which will be individual class and you are free to choose your topic.
Course Details:
Music can raise someone's mood, get them excited, or make them calm and relaxed. It also allows us to feel nearly or possibly all emotions that we experience in our lives. The importance of song choice can't be underestimated. You need to choose appropriate songs that work with your own vocal style, range and sound – and haven't been overdone. This can make or break when it comes to impressing the panel, judges and audience. Although you may be writing a song to express your own emotions, feelings or experiences, the most important thing is to make sure your song is accessible and relatable to your listeners.
Song production is a process of overseeing the whole process of creating song, from recording vocals or instruments to creating instrumental arrangement and coaching the singers and the instrumentalists to perform the piece of melody the way you want it. By process, song production comprises of two activities - songwriting and music production.
Songwriting is the creative process of creating melody, chords and lyric. And Music production is process of creating an instrumental across the given melody.
Making a music video is a fantastic way to express your creativity. Plus, it can be great fun and really rewarding, especially if you love music. Depending on the sort of video you want to make, coming up with the concept and organising the production process can require a it's own creativity and work accordingly. .
In this workshop you will get to experience the wide range of music from writing to making one. Anybody can join the workshop without any age restriction because we believe that magic lies in everyone of you. That being said, you need not have prior experience with anything related to music.
Great things start fresh!
Anybody can join the workshop without any age restriction because we believe that magic lies in everyone of you. That being said, you need not have prior experience with anything related to music.
By the end of the workshop each participant should be able to make their own song :)
About the facilitator:
Vasu's open-throated voice is a free-spirited celebration of life, whether he sings with his band VDC, Swarathma or on his own. A composer, musician and filmmaker in equal measure his craft brings many nuances of art into one space.
https://g.co/kgs/kW87Zw
______
For any queries, feel free to reach out to us on 7829765688 or 8971492903