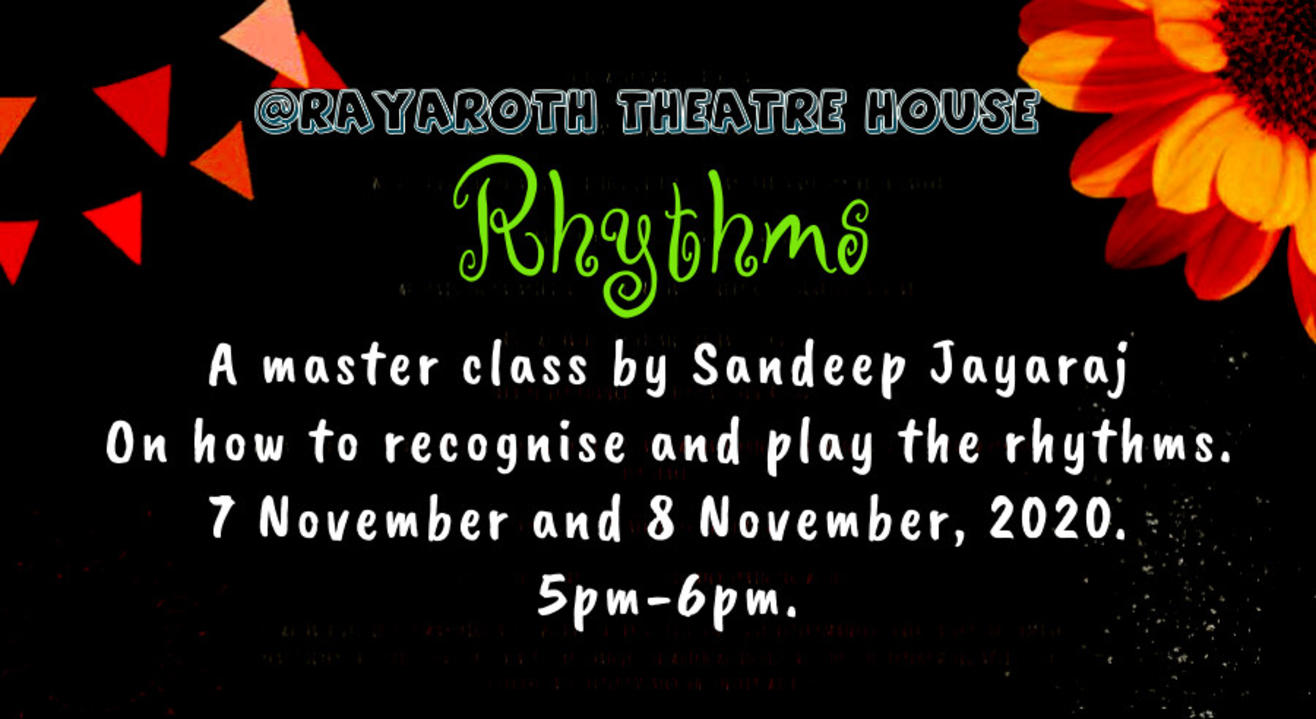 Rhythms by Sandeep Jayaraj
November 7 | 5PM - November 8 | 6PM
Enjoy this event from your home
Invite your friends
and enjoy a shared experience
Invite your friends
and enjoy a shared experience
About the Event
We all love to hear music, sing songs but what about RHYTHM, yes you read it right, its a part of the music which is not easily catchable!
We at Rayaroth Theatre House, bring you the very musician and percussionist from Malabar region of Kerala, Sandeep Jayaraj.
This is the first of the series of masterclasses we will bring you here.
A master class on
1.How to understand the rhythm for any song, music, jamming, concert, any thing which grooves you. (and that can also be rhythmic sound of crickets or a flowing river)
2.How to play the basic beats, and you can attempt playing on djembe, drums, mizhavu, tumba, etc...
3.Creating your own jamming with two or more people.
Choose your date: 7th November,2020 or 8th November, 2020.
Timings: 5 to 6 pm
Dakshina:Rs 300 for one class.
About Sandeep Jayaraj
Sandeep Jayaraj is an artist with many feathers in his cap. He is a renowned percussionist we have in India who plays music instruments from across the cultures, like Mizhavu, Djembe, Didgerdoo to name a few. A masters in Theatre from School of Drama, Thrissur, Kerala, he has performed in several plays since the years he was active, as an actor, director, music composer, both onstage and backstage. He was also associated with the theatre group 'Roots and wings'. He has been a technical team member in ITFOK festival for many years. He had worked with Adishakti, Anghika, Theatre Darpana, Kalarigramam. He travelled across the world to teach and perform Kalari. These days he has dedicated himself to 'Srividya Kalari' in New Mahe where he trains artists Kalaripayattu and Mizhavu as in Guru-Shishya Parampara. He also has been a visiting faculty in NSD Bangalore, FTII in Pune, K R Narayanan institute. He is actively organising art projects that involves the professional artists engaging with the local community in his space called 'Srividya Kalari'.
About Rayaroth Theatre House
Digitally born in 2020, we are a bunch of theatre enthusiasts from varied spaces and situations, collaged together to create magic called Theatre.
Founded by Kanchan Avchare, a 150 years old house in Malabar Kerala turned into a performance space cum artist residency where art breathes amidst nature and give a sense to contemporary art along with its traditional sensibilities.
All the programmes are made under the initiative called 'Theatre for Change', we believe theatre can bring the necessary change within and outside!
One of the pioneers of the intimate performance space phenomenon in the Malabar region, having performances, music jammings, readings, training, discussions, stimulating evenings with like-minded people in an atmosphere of warmth and sharing.
As we are digital now, we continue our journey with our new venue at Paytm Insider!
Love and Peace
Shukriya
Rayaroth Theatre House