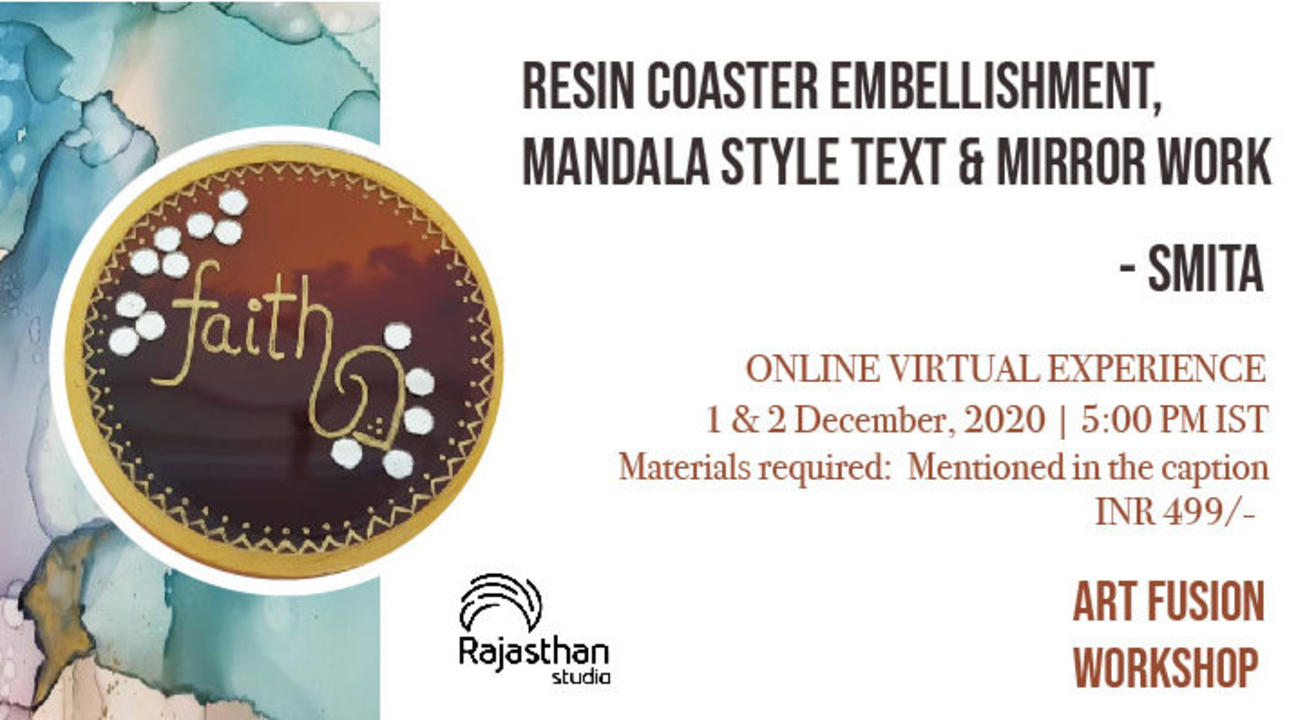 Resin Coaster Embellishment Workshop by Rajasthan Studio
Enjoy this event from your home
Invite your friends
and enjoy a shared experience
Invite your friends
and enjoy a shared experience
About the Event
Resin Coaster Embellishment Workshop by Smita
Resin art is a unique art form which has recently gained a lot of popularity. Resin is a chemical which comes in two components, resin and hardener when mixed together harden to create a glass finish on the surface. It creates a waterproof, beautiful epoxy glass-like surface.
Mandala is a Sanskrit word that means 'circle' or a 'universe'. Mandala art is a majestic art form practised by people from different countries with different beliefs. It starts with a small dot and with careful direction can turn into a beautiful array of colours and patterns. It is a meditative art form that helps one rejuvenate, release stress, develop focus, and find inner self.
This two-day workshop will make you dive into a different dimension of the mandala and learn mandala style text and mirror work. Also, try your hand at resin art and make your own sparkly resin coaster with embellishments. Join Smita (@smitas_craftogram) for this exclusive fusion workshop on:
Date: 1st & 2nd December 2020
Time: 5 PM
Venue: Online Workshop over Zoom App
Price: INR 499/-
(Link in Instagram bio for Booking the Paid Slot)
Materials Required:
Resin
Hardner
Resin
Colours
Gloves
Mask
Silicon mould/ coaster size MDF
Gold pen
Cut mirrors
P.S. No entries will be accepted after 1 PM on the day of the workshop.
See you!
#rajasthanstudio, #onlineworkshop, #onlinelearning, #resinart #resinartworkshop #coaster #resincoaster #embellishments #mirrors #mandalart #mandalaletter #mandalaworkshop #virtualexperience, #artistsoninstagram, #explore, #creativity, #design, #rajasthan, #thecircle, #thecircleexperience, #artist, #artists #artbaje #eksoart