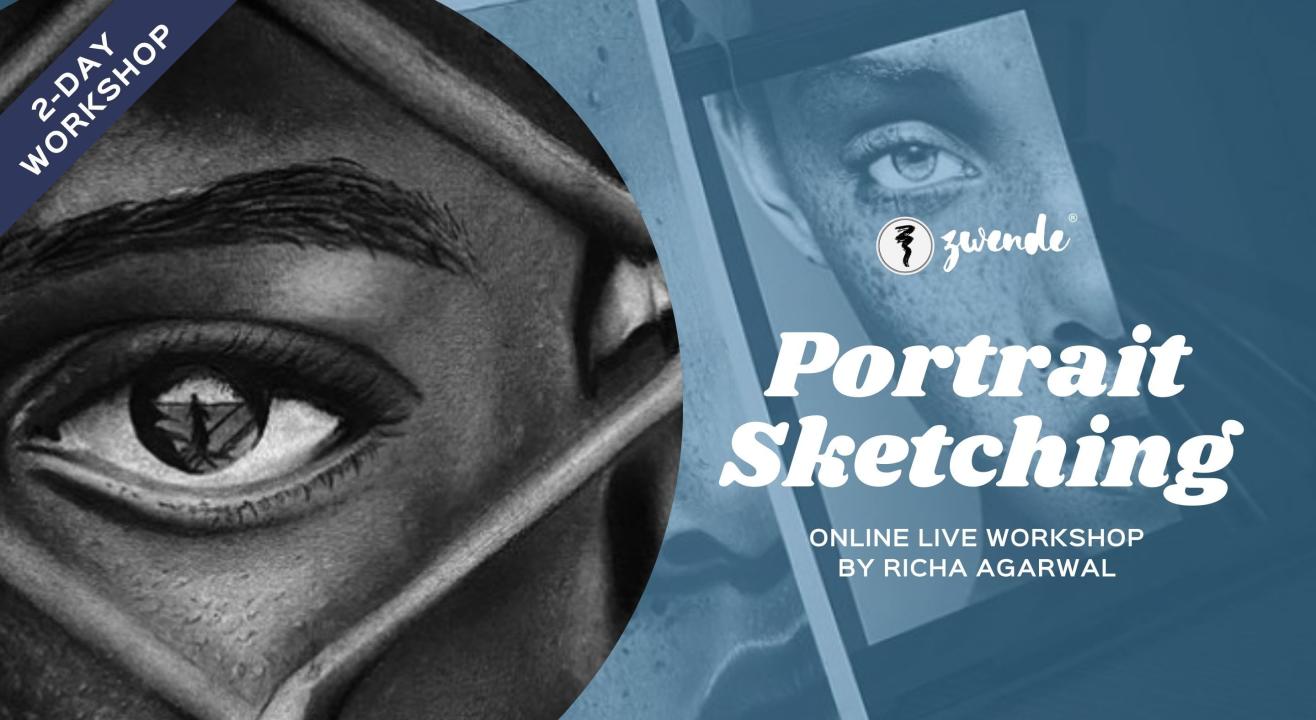 Portrait Sketching [Online Live Workshop]
Enjoy this event from your home
Event Guide
Masterclass
Learn from an expert
Invite your friends
and enjoy a shared experience
Event Guide
Masterclass
Learn from an expert
Invite your friends
and enjoy a shared experience
About the Event
About the Artform
Realism is an art style that focuses on representing the subject truthfully, without adding fictitious elements or features. The Realist Movement began in France, in the 1850s, when Realist painters rejected the idea of Romanticism, which was widely prevalent in art and literature back then.
The movement picked up when artists like Gustave Courbet and Jean-Baptiste-Camille Corot used common labourers and their everyday surroundings. Realism is a vast concept and has its presence in various fields like literature, cinema and theatre.
About the workshop
In this 2-day workshop, you will be introduced to the world of portraits and its techniques. You shall be using charcoal and charred sticks of wood to make finished portraits which look as realistic as possible.
You will understand how the art utilizes a mixture of charcoal and graphite to create hyper-realistic portraits. The artwork you create will closely resemble a high-resolution photograph as you incorporate intricate detailing to breathe life into the paintings.
The colors in the palette
Elements you will learn
Conceptualize different shading techniques
Understand proportion and form in detail
Indulge in improved charcoal shading and blending techniques
Develop deeper insights into drawing realistic portraits
Have an advanced understanding of value and gradation scale
Flow of the workshop
Day 1
Introduction to Basics of Charcoal and Graphite Shading
Introduction to sketching tools, types of shading techniques, briefing about Value Scale and Gradation Scale
Practice of Value Scale and Gradation Scale to get the tones right
Introduction to Grid method / Getting proportions right
Realistic Portrait Making
Day 2
Charcoal shading and blending techniques on the Portrait - Utmost focus on Realism
Realistic Charcoal Portrait Shading continued
Who is this workshop "just right" for?
Any person with a basic interest in drawing can be a part of this workshop
If you're interested to learn life-like portraits, join this workshop!
Anyone who is 13 years and above can participate
It is a beginner-friendly workshop


Materials Required
Smooth paper ( A4)
Soft brushes
Tissue paper and ear buds
Charcoal pencils
Normal graphite pencils - 2B, 4B and 6B
The scope of creativity
Further prospects and application of what you will be learning
The workshop will impart you with the basic knowledge of portraiture and the application of different techniques to achieve considerable realism on a piece of paper. The session would make sure that all the concepts in relation with sketching are thoroughly cleared and efficiently executed.
After the workshop, you can indulge in making more life-like portraits and turn this artform into a regular hobby.