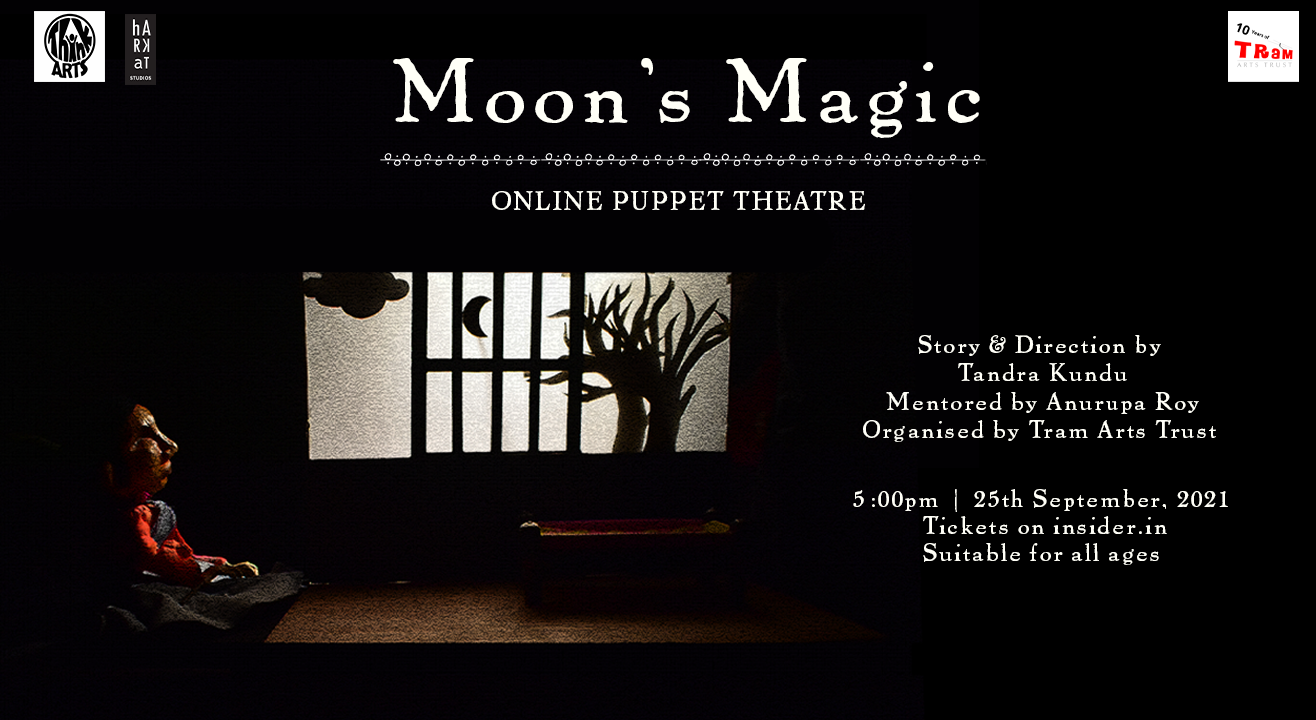 Moon's Magic - Online Puppet Theatre
Enjoy this event from your home
Event Guide
For Age(s)
Family Friendly
Live Performance
Enjoy a unique experience
Invite your friends
and enjoy a shared experience
Event Guide
For Age(s)
Family Friendly
Live Performance
Enjoy a unique experience
Invite your friends
and enjoy a shared experience
The story of a little girl's love for the moon. Told with Rod Puppets and Shadows.
SUITABLE FOR ALL AGES
Duration: 25 mins
Date and time: 25th Sept | 5 pm
By buying a ticket to this show, you will support an artist and art.
SYNOPSIS
A story of a cute little girl who lives with her grandmother, she wakes up early with the crowing of a rooster and goes to school every day. One afternoon, after school, while playing in the field she discovered the moon for the very first time. She was thrilled and ran to her grandmother to tell her of her discovery. The next day she found that the moon had become half, and the following day it was gone! The little girl was frightened due to its complete absence from the sky. Seeing the little girl distraught, her grandmother tries to calm her. She told her of the lunar eclipse and promised that the moon would come back soon. That night the moon came to the little girl in her dreams, they played along and after helping her go to sleep, the moon finally returned to the sky.
CREDITS
Puppeteers: Tandra Kundu, Anuradha Paul
Mentorship: Anurupa Roy
Supported by: Burdwan The Puppeteers, Partha Pratim Paul, Sanidhya Chatterjee
Story & Direction: Tandra Kundu
Developed under Artists' Support Project by Tram Arts Trust, Harkat Studios & ThinkArts
ARTISTS' SUPPORT PROJECT
The pandemic has been harsh for the artists' community who have largely been forgotten for organisational support and by larger public consciousness. Those who could adapt to the digital, did. The majority have been out of work and earnings since March 2020. But artists have stood by artists. The support has come from within. This production is the result of the efforts of 3 individual object theatre artists who created digital shows and donated part income to this project, over 100 viewers and donors, and 3 arts organisations who came together to enable new performances by 3 deserving artists. This play is created by Burdwan-based puppeteer Tandra Kundu. By buying a ticket to this show, you will support an artist and art.
ABOUT THE ARTIST
Tandra Kundu is a young Burdwan-based contemporary puppeteer. She has been working and under training with Burdwan The Puppeteers company for the last 4 years.
ABOUT TRAM ARTS TRUST
Formed in 2011, Tram Arts Trust is an Object Theatre Company based out of Mumbai & New Delhi, building their artistic work in order to explore the world with the 'theatre of objects'. Their work revolves around telling stories with the most ordinary things and to spread the magic of this simple, yet deeply profound art form in India! Tram's plays & workshops travel world-wide; include works for adults, children, family audiences, educators, arts based practitioners, and youth from varied backgrounds. Possibly India's first Object theatre company, Tram is dedicated towards practicing, excelling in & disseminating Object Theatre in India. www.tramarts.org
ABOUT HARKAT STUDIOS
Harkat is an international boutique arts studio with a passion for film, new media, community art spaces, and contemporary art. Based in Mumbai & Berlin, Harkat takes many forms and identities across disciplines & related creative industries. As an alternative performance & arts space, we have hosted more than 250 shows in the past year in the mediums of theatre, film, music, community projects & contemporary art. We support the new, unheard, upcoming, exciting, cutting edge, the political, the forgotten, nostalgic, melancholic, soul-stirring, the beautiful & more. And that's what Harkat is. Harkat. https://www.harkat.in/
ABOUT THINKARTS
ThinkArts was founded in December 2013 to facilitate high quality, transformative arts events for children and young adults, based on the belief that regular creative experiences are essential for children to develop their imagination and emotional intelligence. Based in Kolkata, ThinkArts has collaborated with over 75 partners across India and internationally to bring a diverse programme of literary, visual art, dance, theatre, and storytelling events to children and young people in several cities across India. Since 2020, ThinkArts has created India's first grant exclusively for creating work for children and young people, commissioned 9 digital performance works made for young audiences, and presented over 100 workshops and sessions online. https://www.thinkarts.co.in