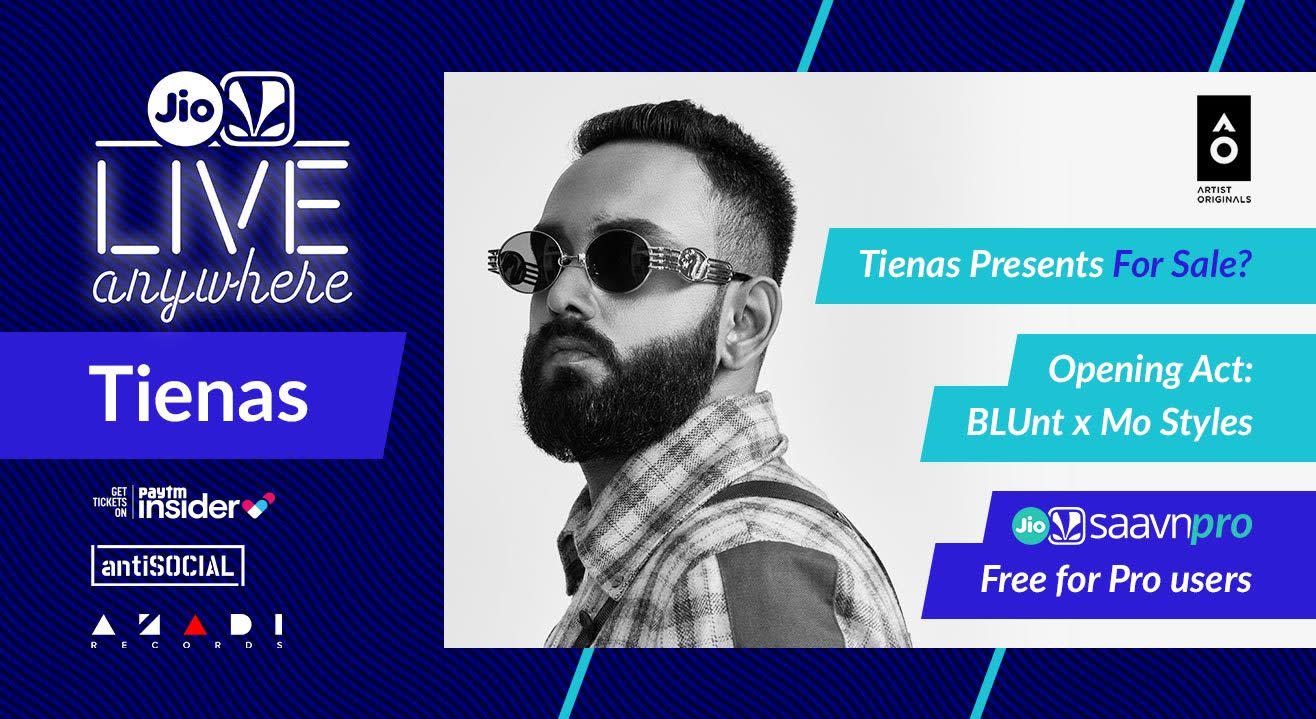 JioSaavn Live Anywhere : Tienas Presents 'For Sale?' - Live Online Stream
December 3 | 9:30PM - 11:30PM
Enjoy this event from your home
Event Guide
Digital Event
Live On Insider
Interactive show
Be a part of the show
Invite your friends
and enjoy a shared experience
Event Guide
Digital Event
Live On Insider
Interactive show
Be a part of the show
Invite your friends
and enjoy a shared experience
About the Event
Mumbai-based artist Tienas is joining forces with Artist Originals (AO) - JioSaavn's hit-breaking label for global South Asian artists, to release his brand new EP. Titled 'For Sale?', the EP is a follow-up to Tienas' critically acclaimed albums - O (2019) and Season Pass (2020).Through the EP, the Mumbai-based artist, offers a fresh perspective on love and the socio-political circumstances that govern it in modern-day India. Tackling issues such as workplace sexual harassment, caste-based discrimination in relationships, mental health and substance abuse - For Sale? adds another dimension to Tienas' sonic landscape and builds on his already substantive ability to craft together engaging narratives through his lyrical dexterity.
Tienas
Azadi Record's 'Wonderboy' Tienas - is a breath of fresh air in the city's hip-hop community - bringing to the forefront a Nujabes-inspired sonic aesthetic that hasn't been seen before in a region dominated by 'gully rap'.
Moving beyond the confines of hip-hop as a genre, Tienas now confidently weaves and bobs through different genres, piecing together a unique aural aesthetic that he can claim as his own.
DJ BLUnt
Rahul 'BLUnt' Dhande, who also goes by the name DJ Blunt, is a DJ, rapper, music producer and a sound engineer from Mumbai. Having studied Music Technology in the UK for 4 years, BLUnt returned to Mumbai in 2016 and is an active member of the bass/hip-hop crew ViceVersa from Mumbai. Having been active as an engineer, producer and a rapper, BLUnt also rests his hands on decks regularly reppin the freshest of Hip Hop, R&B and Trap music, with chart toppers to songs you'd wish were more popular. Having been active as a DJ since 2010 and raised on likes of legendary artists such as Lil Wayne, Jay-Z, Young Jeezy, and Dr. Dre, BLUnt is equally likely to drop a wide array of songs which get the people grooving in their zone from old school Hip-Hop to Modern day classics.
Alongside proving himself as an artist, 'BLUnt' is also the owner/founder of BLUntSpace studios, where he actively works as an Audio Engineer providing his services to aspiring hip hop musicians and artists. He has also dropped multiple mixes on his mixcloud channel - getheblunt setting the tone for his artistry.
Mo Styles
From being a vocalist in a live hip-hop band in the United Kingdom in the late '90s to 20 years later co-founding one of India's leading independent record labels, Azadi Records, Mo Joshi aka Mo Styles has long been associated with grassroots subculture movements.
Always one to get the party started and keep you on your toes, Mo's DJ sets revolve around golden era Hip Hop, UK Garage, Grime and select cuts from the Azadi Records catalog, plus a few unreleased joints or demo tracks that might not have made final label releases.
If you are not a current JioSaavn Pro Subscriber, you can purchase the event ticket here. The event ticket comes with a 3 month subscription to JioSaavn Pro.
For existing JioSaavn Pro Subscribers, you can head over to the pro-reward section on your JioSaavn application.
'Oh My Lord' | Tienas | Starring Aishwarya Mohanraj |