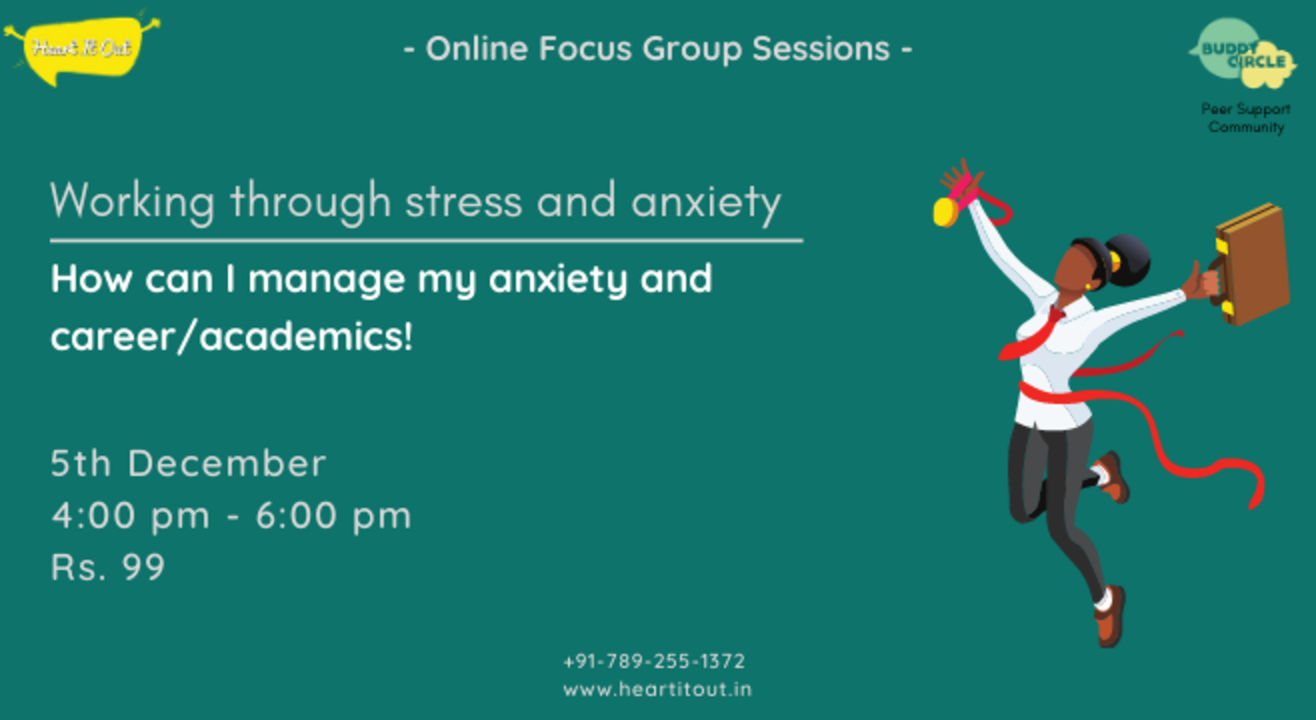 How can I manage my anxiety and career/academics
Enjoy this event from your home
Invite your friends
and enjoy a shared experience
Invite your friends
and enjoy a shared experience
About the Event
Did you know: Stress and anxiety are a package deal when it comes to work and/or academic performance. Between deadlines, difficult peers, our bosses/professors breathing down our necks, and parental pressure, its a lot to deal with! This can lead to the fear of failure and increased frustration, compromising our effort and level of productivity. Not to mention, anxiety can make it challenging to work/study consistently due to low concentration and increased fatigue.
The silver lining? You are not alone! It is a rat race to do well, but there are others too. Keeping that in mind, Heart It Out, a mental health and well-being initiative in Bengaluru, is having an focus group session as part of our peer-support network for mental health, The Buddy Circle! The whole idea is to provide a safe and non-judgemental space where you can share your experiences and extend and receive support from others facing similar challenges. This can help you realize that you are not alone in your struggles!
In this session, we will be exploring how your anxiety is affecting and is affected by your career/academics. Join us to hear others speak of their experiences and share your stories with them too! Learn from them while they learn from you, about how you can fight your anxious thoughts and focus better on your studies or career. Don't worry, it will be a small group of people who are all there to hear you out. All you need to bring is yourself, a notebook/paper, a pen or pencil, some colour pencils, water and an open mind!
Looking forward to seeing you! Come Heart It Out your feelings, it's a safe space for you. 😊