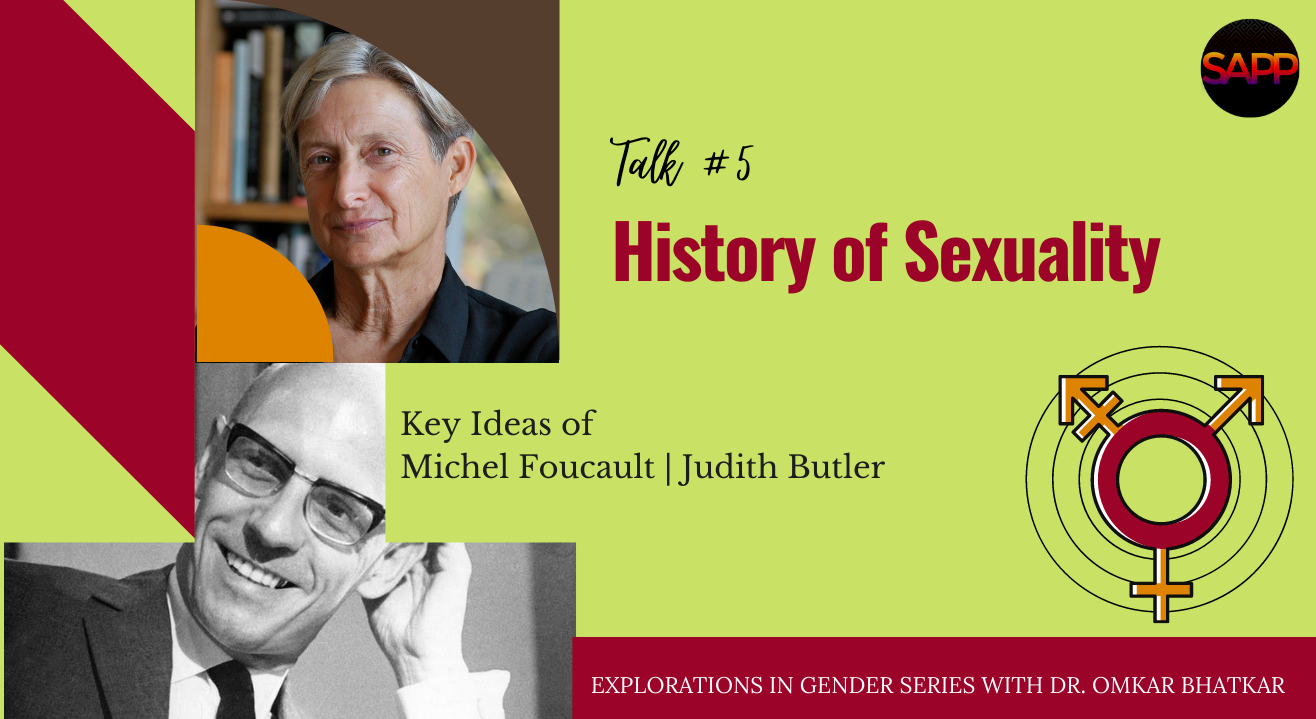 HISTORY OF SEXUALITY (Explorations in Gender Series)
St. Andrew's Centre for Philosophy & Performing Arts (SAPP)
Step out and enjoy this event
Invite your friends
and enjoy a shared experience
Invite your friends
and enjoy a shared experience
About the Event
Explorations in Gender is a series of lectures organized by St. Andrew's Centre for Philosophy and Performing Arts that examines the contingent nature of identity factors, such as Sex, Gender and Sexuality and how this matrix is intertwined in the living cultures of the world. The sessions will attempt to address diverse themes in each session. Every session is interactive and participants are allowed to ask questions to the resource person.
It is an unconventional lecture series which borrows its tools of study from various varied disciplines. The major disciplines are philosophy, sociology, literature, media and mass communication, history, psychology and anthropology.
Each session is organized around Key Ideas of a thinker followed by exploration of those ideas in a cultural produce, be it poetry, novel, cinema, mythology or diary.
Talk # 5 : HISTORY OF SEXUALITY deals with the following themes:
Development of Sexuality in history
Key Ideas of Michel Foucault
Locating nor male nor female experiences in history
Reading of 19th century Hermaphrodite
Thoughts of Judith Butler
About the Resource Person
Dr. Omkar Bhatkar is a Sociologist with a doctoral thesis dealing in Proxemics and Social Ecology. He is a visiting professor at St. Andrew's College and Pravin Gandhi College of Law, Mumbai.
His academic interest comprises of Cultural Studies, Phenomenology, Film Theory, Aesthetics along with Visual Communication, Gender Studies, Existentialism and Inter-religious studies. He has contributed research papers/chapters for several national and international journals and book publications.
He is the Co-Founder and Head of 'St. Andrew's Centre for Philosophy and Performing Arts' which aims at bridging art and academics.
Dr. Omkar Bhatkar also runs his own theatre group known as Metamorphosis Theatre Inc. His works largely focus on Poetry in Motion, Existentialist Themes and Contemporary French Plays in Translation. He has written and directed more than twenty plays, several of which have been performed at Art and Theatre Festivals. In collaboration with Alliance Française de Bombay he has directed several Contemporary French Plays in English. He is also a Stage Critic and reviews plays.
Format of the Session
1) The Session will be conducted online on Zoom platform.
2) Session Links would be sent one day prior to the session via Email and WhatsApp. (Kindly fill the correct Email and WhatsApp Number)
3) The Duration of the session is 2.5 hrs. (There will be an informal break of 5 minutes)
4) Participants are allowed to ask questions at the end of session or during the session at the discretion of the faculty.
5) After the session Post Reading material will be provided by St. Andrew's Centre for Philosophy and Performing Arts (SAPP) via Email.
6) Those who attend all 6 sessions will be eligible for an E-Certificate by SAPP sent via Email, however those attending less than 6 sessions will not be provided with E-certificate.
7) The Session will not be highly academic but while discussing theorists, an academic tone will be maintained. The idea is to make the sessions as multidisciplinary as possible.
St. Andrew's Centre for Philosophy & Performing Arts (SAPP)
St Domnic Rd, Bandra West, Mumbai, Maharashtra 400050
GET DIRECTIONS