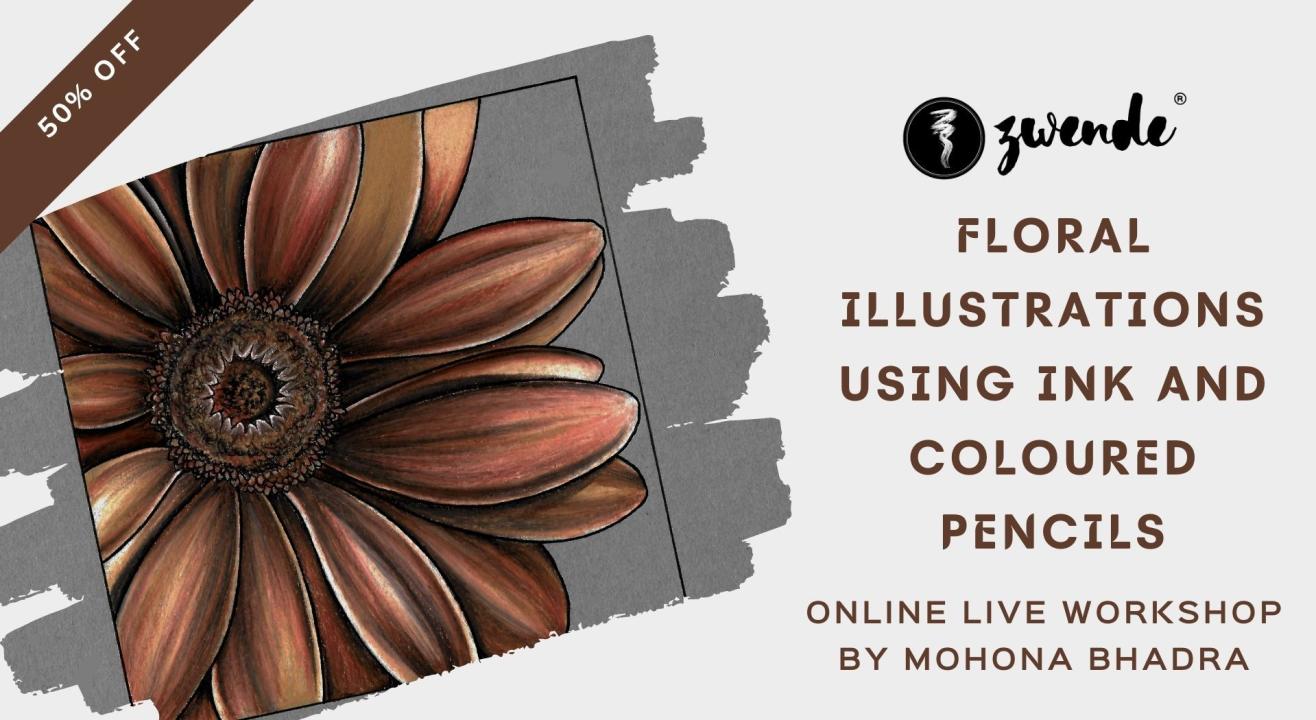 Floral Illustrations using Ink and Colored Pencils [Online Live Workshop]
Enjoy this event from your home
Invite your friends
and enjoy a shared experience
Invite your friends
and enjoy a shared experience
About the Event
About the Artform
Botanical illustration is the art of depicting the form, color, and details of plant life. This practice can be traced back to a time between 50 and 70 CE, when an illustrated book titled De Materia Medica was created by Greek botanist Pedanius Dioscorides to help readers identify plant species for medicinal purposes.
Floral illustrations are a rich, versatile form to begin with, and can be stepped up a few notches with the use of coloured pencils. If combined masterfully, ink and coloured pencils can create illustrations that are bold, modern, aesthetically pleasing, and that stand out in comparison to a lot of other contemporary floral illustration styles.
About the workshop
In this workshop, you will learn how to visualize, sketch out, and compose floral illustrations. Get a glimpse into line art, and combine said line art with colored pencils using smooth and seamless blending techniques to enhance creative output. Understand how to choose the right colors and shade range, how to blend smoothly using a balance of light, mid, and dark tones to achieve depth, and much more!
Elements you will learn
Composition and framing
Sketching florals using simple shapes and lines
Choosing the right shades and shade range for their subject
Smooth and seamless blending of colored pencils
Creating depth in their illustrations
Who is this workshop "just right" for?
This workshop is perfect for anyone who wants to get better at using colored pencils, but has so far struggled to master shading and blending techniques.
It is a beginner friendly workshop. (Age 15+)
Materials Required
White or toned paper (minimum 170 gsm preferred)
Pencil and eraser
Ruler
Fine liners/gel pens
Colored pencils
White gel pen (optional)
*In case you do not have paper that is 170 gsm in thickness, you can use printer paper. (However, note that extensive blending may damage the paper, so you would have to exercise caution while working on this step)
*Ballpoint pens work great for line art if the participant does not have access to fine liners or gel pens.
*Watercolor pencils work fine as a substitute for regular colored pencils
The scope of creativity
Further prospects and application of what you will be learning
These skills can be used in future to create bold and unique illustrations that cover a broad range of subjects and that demonstrate the individual's mastery over the medium of colored pencils.