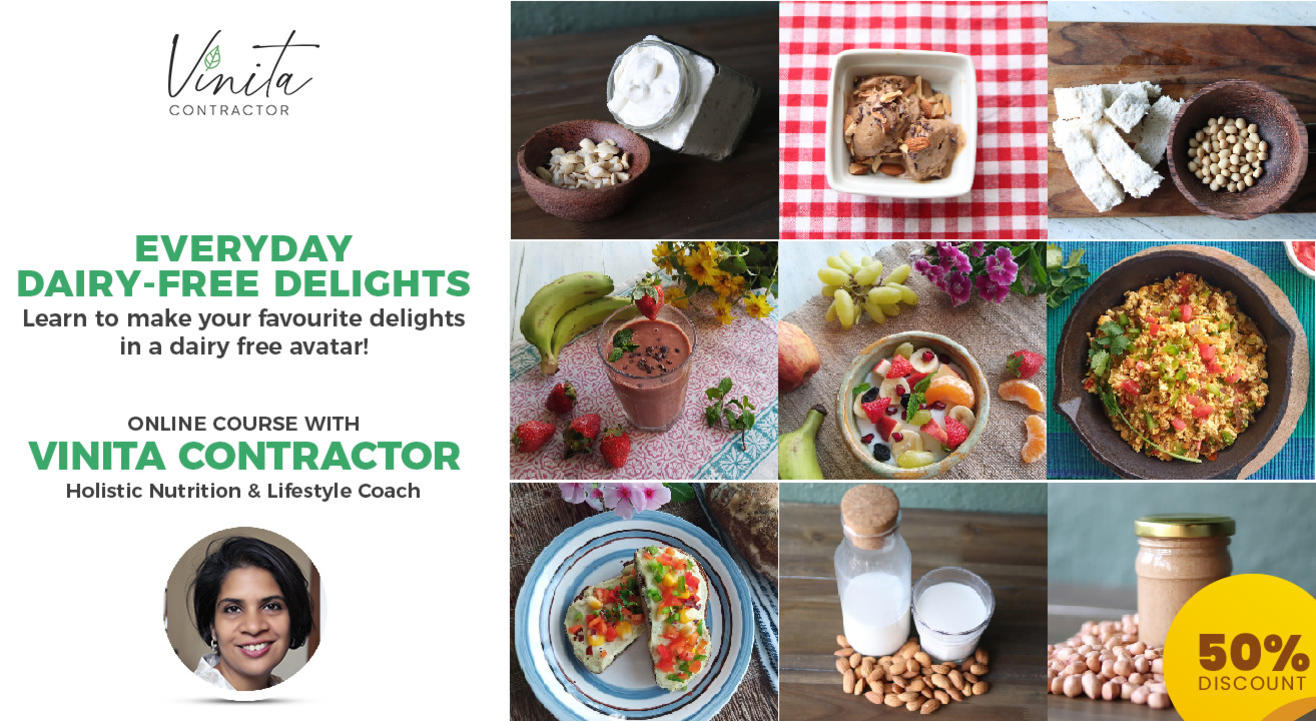 Everyday Dairy-free Delights
Enjoy this event from your home
Invite your friends
and enjoy a shared experience
Everyday Dairy-free Delights
Enjoy this event from your home
Invite your friends
and enjoy a shared experience
Invite your friends
and enjoy a shared experience
WELCOME TO THE WORLD OF DAIRY-FREE DELIGHTS! https://vinitacontractor.com/eacademy.asp
I am here to guide you towards clean eating and healthy living through nutritious and yummy food. THE LEAF E-ACADEMY is a step towards making healthy eating simple and more accessible for everyone! So you can learn from anywhere, anytime at your convenience.
Learn how to make these delights by Vinita Contractor, Holistic Nutrition & Lifestyle Coach.
To know more about Vinita https://www.vinitacontractor.com/about.asp
I am really excited to present the very first course on Everyday Dairy-free Delights.
In this course you will learn to make your favourite delights in a dairy free avatar by following easy to follow instructional videos. We want to ensure that we make dairy free delights a part of your daily life in a hassle- free, convenient way with easy to procure, local and inexpensive ingredients.
You will also benefit from the healthy recipes from which you can make interesting dishes, drinks and sides from the dairy alternatives learnt in the course.
So, if you are eager to embrace a healthier lifestyle or get more hands- on in the kitchen, this course has been specially designed for you. And the best part is that it is so simple that anyone can do it!
Learn at your own pace and start with the topics that interest you – Are you ready to begin?
Course format: Your course is delivered 100% online and available on-demand 24/7 from your internet-enabled device. And with 24/7 access to your course content, you can learn around your schedule and review anytime you wish.
When does the course begin?: Whenever you are ready. Can be as soon as you register. After registration, just log on and get started!
Duration of the course: 2 Hours (1 hour of recipe videos & 1 hour of reading time)
Cooking time: 10-20 minutes per recipe.
Course Objectives: Completing this course provides you with the tools, resources and culinary confidence to introduce dairy-free delights into your life.
Course Details:
10 units | 20+ Recipes | Quiz
11 simple and easy to follow video lectures
Focus on core techniques, plant-based substitutes, along with Soy-free, Nut-free options (where possible)
Access to helpful tips, time-saving hacks & Nutri-facts
Earn your Certificate of Completion
3-month access to the course (renewable) & email support