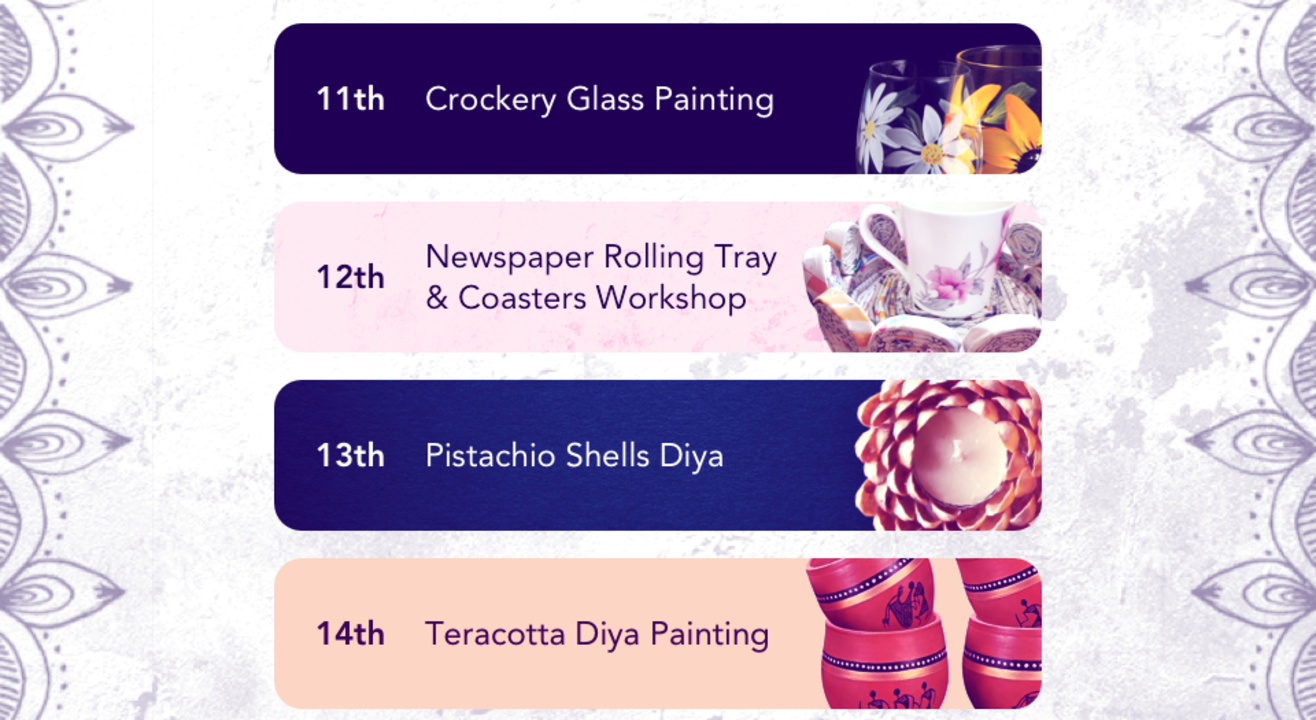 Decor Making for Diwali with BAFA
November 11 | 3PM - November 14 | 4PM
Enjoy this event from your home
Invite your friends
and enjoy a shared experience
Invite your friends
and enjoy a shared experience
About the Event
Dates and Time Schedule
11th Nov - Crockery Glass Painting
Time: 3.00 - 4.30pm
12th Nov - Newspaper Rolling Craft Tray & Coasters
Time: 3.00 - 4.30pm
13th Nov - Diya making with Pista Shells
Time: 3.00 - 4.00pm
14th Nov - Diya Painting
Time: 3.00 - 4.00pm
Duration: 4 Days
Language: Hindi
Fee: 1850 INR
Tutor : Mrs Vineeta
Introduction: A festival lights and crackers is around the corner. We all deck up our homes during Diwali with lights, candles, diyas and visit each other to share the greetings of the festival. Make this Diwali artistic by creating your own version of fancy diyas, trays and crockery glasses as you decorate your house or serve your guests. Learn how to use the basic items at home to turn them into something beautiful and fancy. Add an artistic touch to your Diwali celebrations with these workshop with BAFA.
Things you will require during the course:
Laptop / Desktop / Phone / Tablet access along with good internet connection.
The link to the class will be shared once you enrol for the course.
Crockery Glass Painting : Glasses any size or shape, Brushes, Acrylic Colors, water Bowl and rough Cloth.
Newspaper Rolling Craft Tray & Coasters : 2-3 Set News paper, Kulfi Stick or Broom Stick, Sticking Option Choose any one : Got Glue Gun, Fevicol or Quick fix.
Diya making with Pista Shells : Pista Diya : Pista Shells - 50 to 60, Glue Gun, Cardboard, 2 Wax Small Diya
Diya Painting : Terracotta Diya 4 - 6 , Acrylic Paints, Brushes, Water Bowl and Rough Cloth
What will you learn during the Workshop:
Crockery Glass Painting
How to paint on glass that can stay as it is in the long run.
Learn the concepts and motifs to paint on glass.
Newspaper Rolling Craft Tray
A brief detail on the techniques of newspaper rolling.
How to ensure that the rolled paper can be used together to create a tray.
Adding some colors to it so it can look nice and beautiful.
Diya Painting
How to paint on diya that can stay as it is in the long run.
Learn the concepts and motifs to paint on diya.
Who this course is for:
This workshop is ideal for anyone who wishes to create decor items for Diwali at home
This course is intended for people looking to enhance their art skills and learn new art techniques.
About Artist: With 30 years of experience in art and design, Mrs Vineeta is a very popular folk artist from Jaipur. She believes in keeping the legacy of the art forms alive and thus has dedicated her career towards learning and preaching about them to those who have been keen on learning art. She is proud to be associated with BAFA to pass down her knowledge of creating art.
About BAFA : BAFA is an art community curated by profound artists from all around the globe who are looking to spread the knowledge and passion for art amongst everybody. BAFA conducts online and offline workshops teaching over 30 different art forms with a fantastic blend of in-house artists who have spent decades in mastering the skill that the art form demands. We also have our own online store and personalized portrait section which allows the artist's work to reach a wider audience and help them sell their artwork. Keen to know different art forms, join BAFA and you can engage with the renowned artists and learn new art forms from time to time.