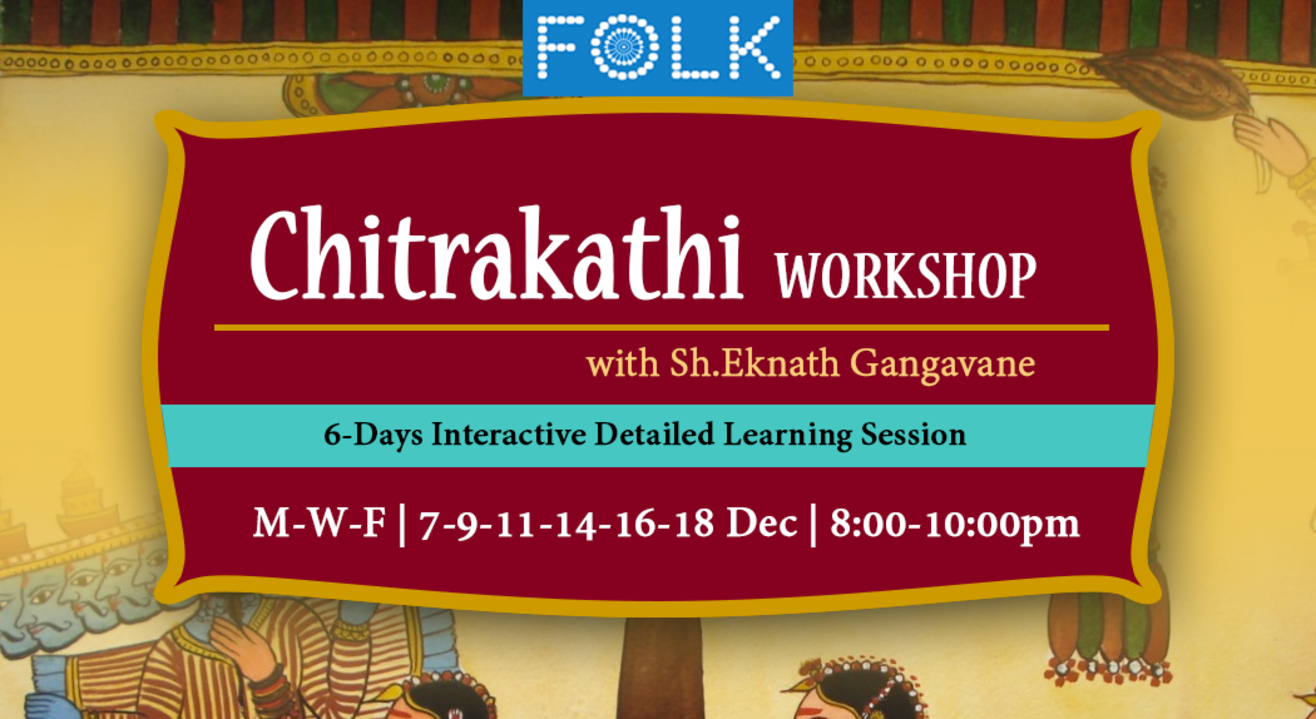 Chitrakathi Paintings Intensive 6-Days Online Workshop
December 7 | 8PM - December 18 | 10PM
Enjoy this event from your home
Invite your friends
and enjoy a shared experience
Invite your friends
and enjoy a shared experience
About the Event
FOLK by Discovery of India brings this 6-days workshop to explore the almost extinct art form of Chitrakathi paintings from Maharashtra. 'Chitrakathi' (meaning story in visuals) is a 300 year old storytelling art in which mythological stories are narrated musically using the paintings. Gangawane family is the one who has been preserving the artform despite all odds since centuries. It is our pleasure to have artist Eknath Gangawane from the torch-bearing family to share the techniques and tradition of the art with us. The workshops are a humble effort towards helping the art and artist sustain.
*The session will be facilitated by Vinati Bhatt, artist and founder, Discovery of India Design
The 6-days session includes -
History and tradition of Chitrakathi
Variety of top and bottom borders used in the paintings
Animals depiction
Male and Female forms
Variety of trees as per the stories and narration
Different kinds of Ornaments
The placement and decorum of characters, differentiation of characters based on their clothes and ornaments.
And much more as it is an interactive session where you can put your questions directly to the artist. Also, the artists love to share anecdotes and details about their family history into arts, culture and more.
TAKEAWAY
A directory of all the elements used in 'Chitrakathi'. It is kind of a Mini Craft Documentation.
You will be creating a 12"x18" artwork, however, there is no compulsion on size. We encourage you to create your own artwork with the learnings from the workshop.
You can also follow the painting that is being done by the artist.
MATERIALS
Sketchbook or papers for practice and learning patterns
Watercolor Paper/ Thick sheet/ Card weight paper
Round brushes - 2,4,6 (approx), 000 for outline (can be replaced with a black fineliner or marker)
Water colors/ Poster colors - Red, Green, Yellow, Orange, Blue and Black
Essential stationery and supporting material for colours.
USP
We acknowledge and respect everybody's pace and make sure that no one in left behind.
Also, we are more than happy to take your questions and doubts during and even post workshop.
Age Group: 8+ years
Languages: Hindi and English
Contact for more information: +91 9811037870 | discoveryofindia.d@gmail.com
FOLK by Discovery of India is an effort to popularise and promote various folk art forms of India while supporting
grassroot level artisans.