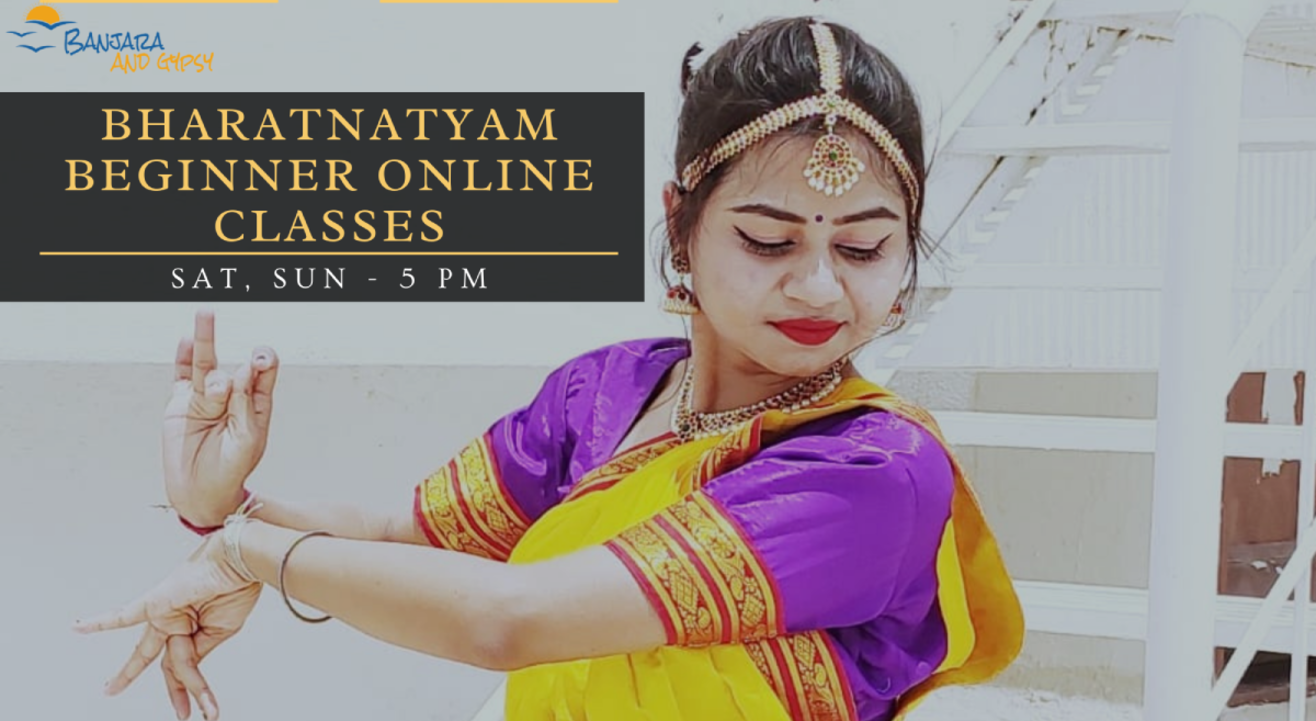 Bharatnatyam Beginner Online Class
April 11 | 5:30PM - April 25 | 6:30PM
Enjoy this event from your home
Invite your friends
and enjoy a shared experience
Invite your friends
and enjoy a shared experience
About the Event
Banjara Gypsy brings amazing artist - Chandrima Mandal who will teach you bharatnatyam, She holds an expertise in training kids and adults. For Initial class will be on learning basic techniques and building semi classical choreographies.
Bharatanatyam is one of the oldest and most popular forms of classical dance that originated in Tanjore district in Tamil Nadu in South India Originally a temple dance for women and often used to express Hindu religious stories and devotions.
Beginners Level 1:
This level introduces the students to Bharatanatyam. Students here learn to appreciate
the art form and also discipline their body and mind for further complicated movements
to come.
PRACTICAL COURSE - Postures - The basic postures in Bharatanatyam are taught which are - The Samapada,
The Araimandi or ardhamandala and the Muzhumandi
 Warm up exercises - These exercises are a prerequisite for learning any step in
Bharatanatyam. We begin here with exercises to strengthen the knees and thighs in
order to sustain araimandi while dancing
 Asamyuta and Samyuta Hastas - These are one hand and two hand gestures used in
Bharatanatyam. According to the Abhinaya Darpana, there are 28 Asamyuta hastas
and 23 Samyuta hastas. Students would learn to depict these hastas with the shloka
given in the Abhinaya Darpana.
 Adavus - These are the steps used in Bharatanatyam and form the base for Nritta or
pure dance. There are many categories of adavus in Bharatanatyam, which can be
divided on the basis of difficulty levels. The first set would comprise 30 adavus.
Rhythm is the most important aspect of dance. Thus, we inculcate a sense of rhythm
in the dancers by making them perform adavus in three speeds.
About the Artist
My name is Chandrima Mandal, and I am trained and a professional classical Bharatnatyam dancer. I have been dancing since I was 5 and have experience in classical, bollywood fusion, contemporary and Freestyle dance forms. I love teaching and find no age bars to learning any dance form.
EDM Alarippu (Indian Raga) | Bharatnatyam | Divine Dance Academy | Chandrima